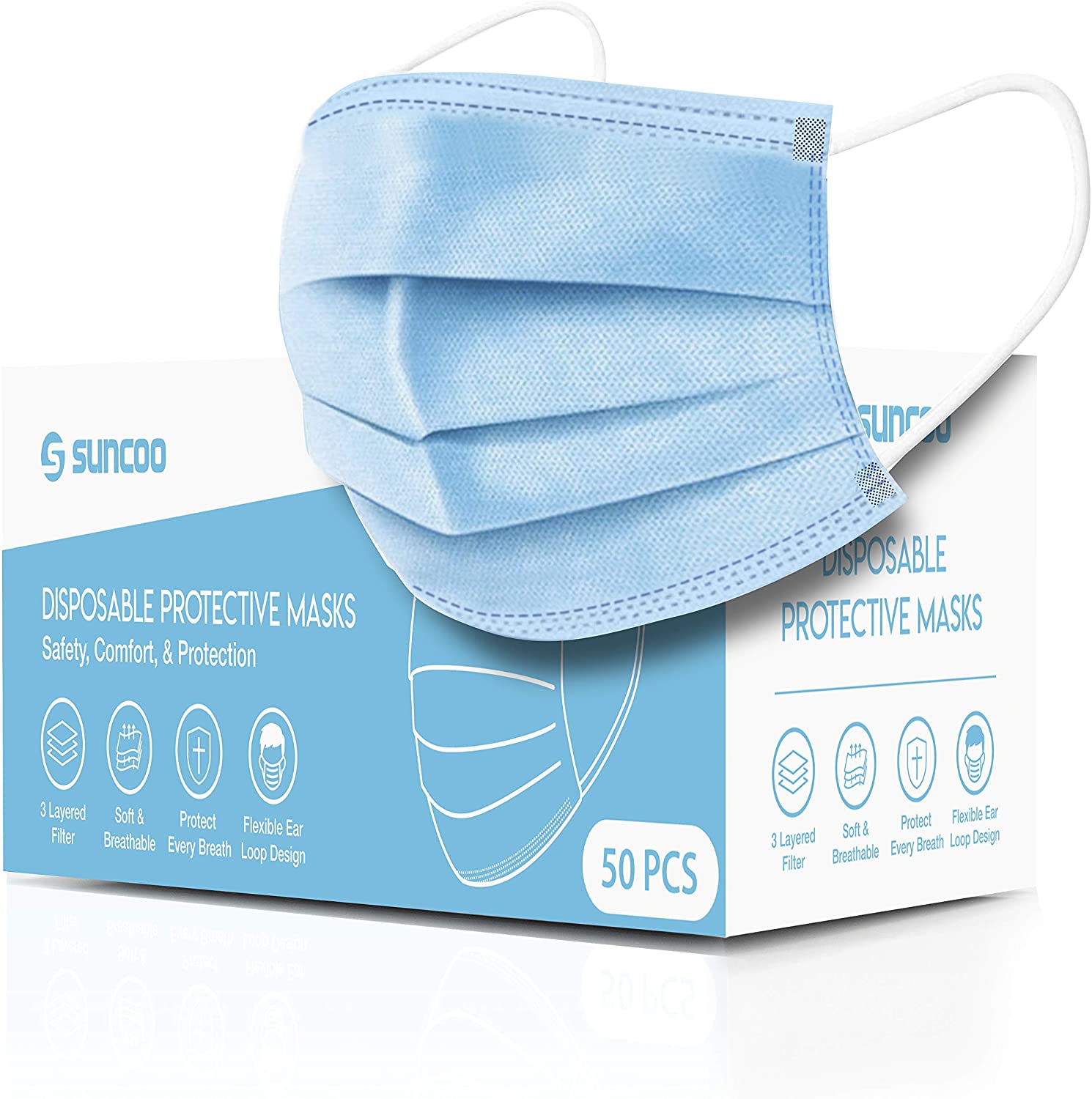 Suncoo Blue Disposable Face Masks
Click here to learn more about our full testing methodology.
Review
Video Transcript

We're testing every mask on Amazon. Thank you for joining us, and today we're looking at the SUNCOO mask. I'm sure you've heard of the SUNCOO Disposable Protective Masks; safety, comfort, and protection. Those three things. They are "protect every breath," and it's got a shield with a cross on it. I'm not really sure what they're trying to sell on that, but let's find out if it does protect your every breath. That is a claim. Speaking of claims, do we have any efficiency claims on this that you saw?

So this machine is a PFE machine. If you want to find out more about how this machine works and how we're not talking about fit or a lot of the other things to consider when it comes to a mask, just filtration, I'm going to put a link to that video right below this one.

So what this is testing is to see the filtration efficiency. Now, the airflow resistance, we can also look at, we're seeing at about 97 right now, pascals, which is pretty good. You want to see that to be below about 150 pascals. All right, let's take a look at these masks. These are very basic masks. We've seen... This is the mask you're going to see when someone says disposable masks, this is what you're thinking of, right? This blue mask. This is really well... The ear loops are really good. Let's try it on. Yeah. That's like... If I were to work at a nail salon for 17 years, then this is all I could smell. There are worse masks in terms of smell. They've got... They're sealing the mask inside. That's good. This is very affordable, though. This might be one of the cheapest masks we've seen.

$8.59, so we cannot be too critical when something's coming in that low. Just the melt-blown alone that would do a BFE or PFE of 95% would cost probably about three bucks, so that's like most of the cost of this mask right here. So what do you think? What do you think it comes in at?

Let's go with 94.

You're going to go with 94%. You trust it? You like it? This is one of those brands. This is one of those brands I'm going to say, look out for. 88.57%. Now this is just one test, okay? Typically, if you were in a lab that you were going to test consistently, these things you would test five or six of them. We're just going to test one, that's all we have time for today, but it comes in at 88.578%, lower than their claim of 95%. [inaudible 00:02:34]. Fit is pretty good, strong mask, great price. I don't like that it's under 90% and they're claiming that it's 95, so that doesn't make me feel good. All right. If you like this, help me out, give me a like, maybe subscribe, or maybe just send me a tweet saying, "Lloyd, thank you." Have a good day.


Details
Buy Mask
Leave a comment