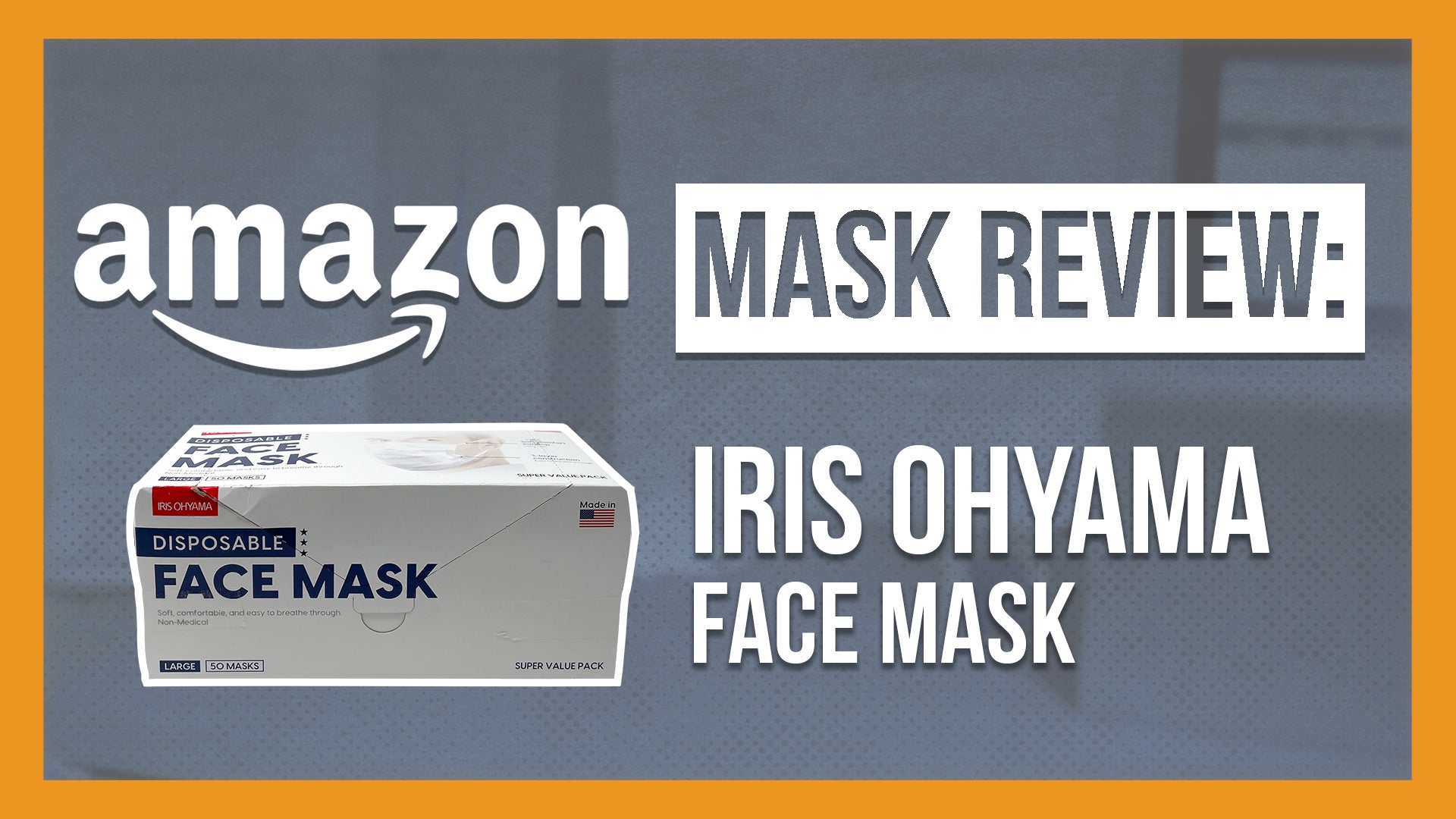 IRIS USA Inc. Disposable Face Masks
Click here to learn more about our full testing methodology.
Review
Video Transcript

Hey, everyone. Welcome back where we are testing every single mask on Amazon and in the world, just everywhere. Today we are looking specifically at American-made masks that we found on Amazon. Looking today at the Iris mask. Let's put it in the clamp. Clamp it up, clamp it up. Clamp-tastic. [inaudible 00:00:31] and let her rip. This is a PFE machine, particulate filtration efficiency machine. If you want to find out more about this, check out the link.

All right. We're looking at the Iris face mask. If you go to their website, you're going to find that they sell storage, small appliance, furniture, pet goods, and face masks. They weren't making any claims. It seems like they saw the need and stood up some manufacturing in the pandemic, and now they have some masks left over. It doesn't seem like it was a big part of their strategy. I have never heard of these folks before, and we bought them on Amazon, not making any claims at all.

It'll be interesting to see what this thing actually produces. Let's look at the box. So it's got one of these tops that I kind of like. If they go... Not a soft touch box. Got some interesting diagrams on the back that I haven't quite seen before. Super value pack. 50 masks. They're all the same. It comes sealed, which is great, but it's open so anyone can get into it, and then cut up here for easy access. That's very weird. All right, let's open this up. Great price, though. 7.99.
All right, let's get a couple of these going. So white on white mask. More wrinkles than I like to see. Interesting. For the first time, I saw a four-panel design in just the last mask that we were testing, and here it is again. Which I like, because it kind of centers the mask. And this dot pattern is very interesting. I'm wondering... Yeah. The construction is not good on that. Not that you would necessarily do that, but you shouldn't be able to just pull them apart like that.
Scalpel.

You had me, Iris. A plastic nose wire. So what they should do is, on their listing, they should put MRI-friendly, because then that would seem like a selling point. I don't like the plastic nose wires, and the reason why is it doesn't really give that... It can't give a hard enough pinch at the top. It seems it's not fitting very well, and I can actually feel it breaking on my face. Look at that. This is probably the poorest construction American masks I've ever seen. Look at this. That looks ridiculous. Now you can look like a surgeon. I don't like that.

Ear loops do look like they're welded well. It's okay. I've seen better. I like the ear loops. They're fluffy. They feel very nice. Yeah, I'd probably give a five on the ear loops.

I actually think that the construction is so poor on the side that it's going to fall. I actually think, aside from the Nickelodeon mask that was made for kids, which was the weakest that I've seen, this one is probably next in line. What a weird choice for them to do.

Now, the white on white masks, it's hard to tell which way you're supposed to wear them. That's why they have the colored fabric. All right. I'm going to call this, because it's not exactly fresh plastic, it's kind of like old plastic, I'm going to call this like a deck of used cards. Particularly the ace of spades. So put that in your pipe and smoke it.

All right, but does any of this matter if it doesn't protect you? Now they're not making any claims. They're just saying they're face masks. They're specifically saying, "Don't use this in a medical setting." They're just saying, "They're masks." 86.932. 86.932. This isn't going to surprise you, but I wouldn't choose this mask. These guys stood up, height of pandemic. They came. They answered the call. These masks were important at that time, but now, now that we have manufacturing here, I wouldn't necessarily choose it.

All right, thank you guys very much for watching. I appreciate your time. I appreciate your attention. I appreciate your likes and subscribes more than you will ever know. More than you'll ever know. All right, I'll catch you on the next test. Thank you so much.


Details
Buy Mask
Leave a comment