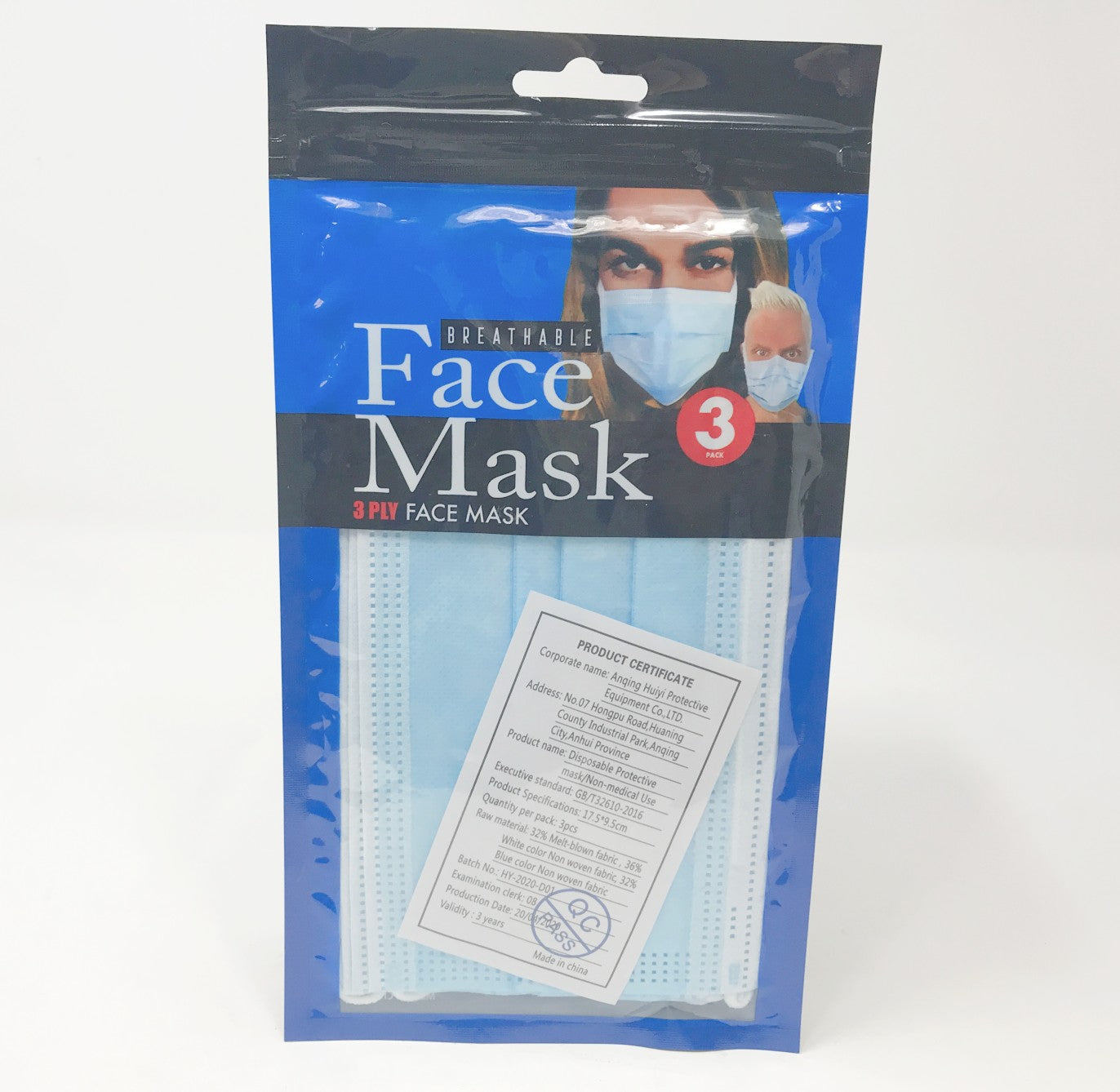 CVS Face Mask
Click here to learn more about our full testing methodology.
Review
Video Transcript

Hey, everyone. Welcome back to the place where we are testing every single mask in the world. In the real world. In this case, we're talking about CVS, not some stuff we bought online. No, I walked my sorry self into a CVS, and I saw this sitting behind the counter. Face mask.

And that called to me because, well, I probably should talk about that with my therapist. Let's get in the clamper and see what happens. Run. Now, if you go to CVS, you're probably not going to see this particular mask. But we're having fun here, right? This is a PFE machine, particulate filtration efficiency machine. If you want to find out what this thing does, check out that link. But we're doing the ASTM test here, the American Standard Test. So let's talk about face mask. Very serious people, these face mask people. Three pack, three ply face mask. Made with a 100% nonwoven polypropylene. Okay. Made in China.

Okay, let's do it. Made by the [foreign language 00:01:15] Protective Equipment Co. Non-medical use. This is the GB32610 standard, which I know well. Here's the thing about that Chinese standard is, there's like seven different types of masks in that standard and they're not telling you which one it is. I can't be too aggressive here, but I will tell just by looking, they're making the mask backwards. The ear loops are supposed to be welded on the front. And typically that means that when I just give a little ... I didn't even do it hard. And it hurts.

You didn't even help me at all. That's horrible. I don't like you, face mask. Oh man. Here's something that's funny. It said made with a 100% polypropylene, and I was like really? 100% polypropylene? What about the wire, Lloyd? What about the nose wire? Yep. Even the nose wire is made of plastic. Which is not really a wire. Because look at that, you try to put that on your face. Super cheap, not going to protect you. Cannot recommend this mask. Sorry, CVS. There goes my $3, oh man.

Smell? Smells like a CVS plastic bag. And here's why I don't like this. See that? Look at that. See where the nose, it doesn't fit around the face. Nose wire actually is a protective measure. Like my daughter said, that's how the COVID gets in. So this company clearly does not care about your protection, even though it's called the disposable protective mask. So what does the machine say? Let's find out. CVS? Survey says. And this one gets the worst mask of the day 34.018. 34.018. That's a percentage. I don't know where you are from, but that's failing real bad in any school that I went to. There is no standard, not even the Chinese standard goes that low. All right guys. I hope that was fun for you. It was fun for me. What is going on? Oh my God. I didn't even see this before.

Look at this guy. What is happening there? Can I get that in focus? Look at that guy, what is that hair? And look at the stare in his eyes. I mean, the woman is intense, but this dude, like something's going on there, man. It's the face of someone actually receiving the coronavirus into their body. All right, thank you guys so much. I hope you enjoyed watching. We are doing tests every day and dropping them every day at 10:00 AM Central Time. So come back, and I'll see you, and then hit that like button. Maybe YouTube will deliver you another mask video. Maybe. Just, maybe. I'll see you.


Details
Buy Mask
Leave a comment