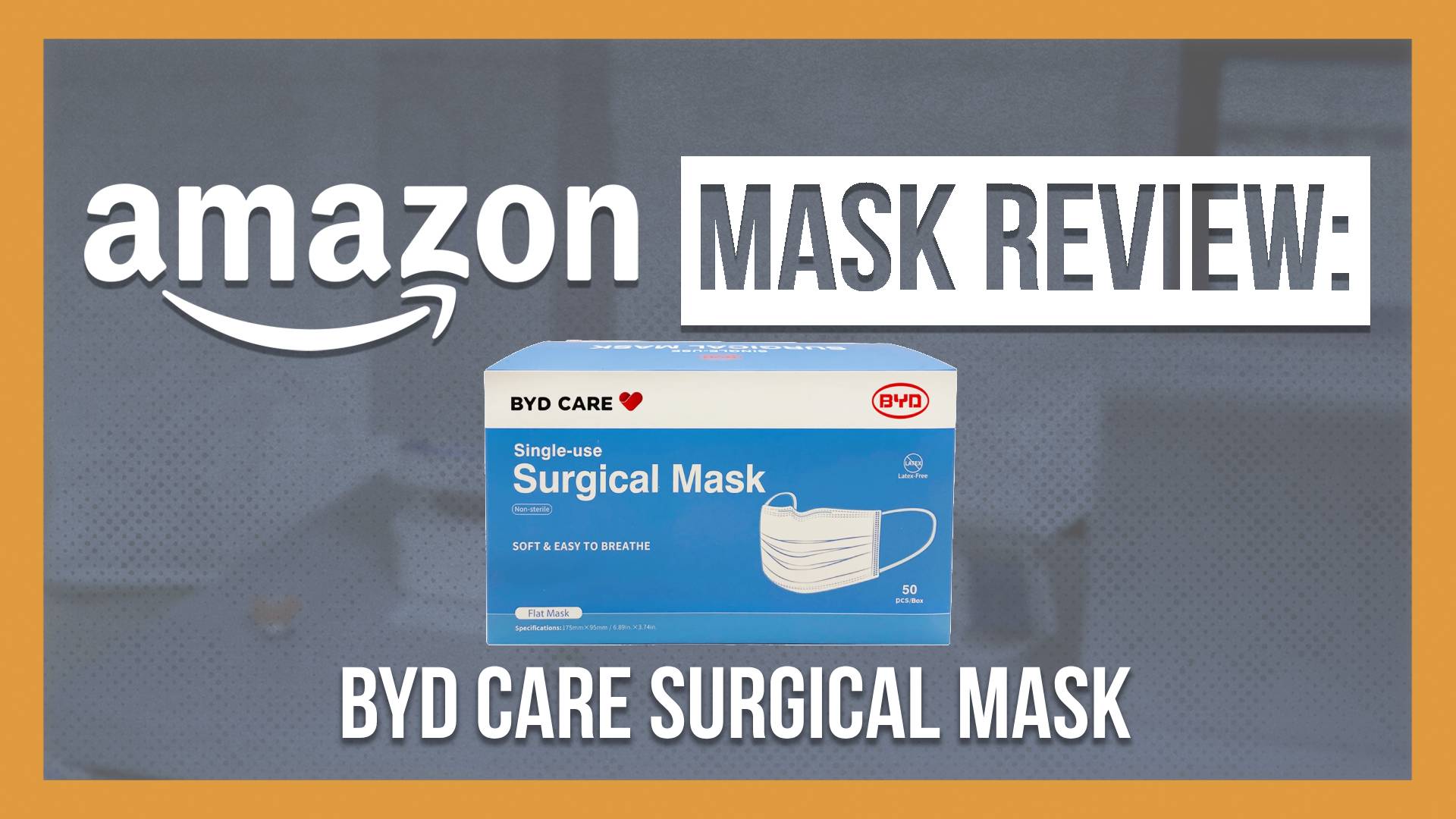 BYD Care Single Use Face Mask
Click here to learn more about our full testing methodology.
Review
Video Transcript

Hey, everyone. Welcome back, where we are testing every single mask in the entire world. Today, we are looking at the very, very, very, extremely popular BYD mask. Why is it popular? I'll tell you. Because they're one of the biggest companies in the world making masks. They claim to be able to do five billion masks a month, and I believe them.

They're a huge electric company, or electric car company in Japan, and the moment the crisis happened, they said, "We need to step in. We need to make masks." And they just converted their entire factory to it, and they make a really good mask, but let's test it and see for sure.
Aw dude, I need longer fingers. Here we go. Lets! Let it rip. This is a PFE machine. If you want to find out more about what this means, check out our background video.

All right, let's talk about BYD. So they set up this amazing manufacturing, want to help people out. And you probably saw this in a Costco, this is what Costco was selling early on. They now have their own brand filter, which we've also reviewed. And I'm trying to see on here, they're not making any claims whatsoever because this is one of the early boxes. If you go to their website now, you're going to find they have a lot of stuff that is actually has claims, and they are selling an ASTM Level 3 mask, but they are not making this claim with this box. If you look at this on Amazon, it looks like, in the listing, they're making a claim of ASTM Level 2, but not on the box. So we should expect this to be 95, 98%, something like that, if it's meeting those standards, but we will see, that's what we're doing here.

All right, let's look at the actual box. Now, I'm super excited because, you guessed it, it's a soft touch box. I think this was one of the most impressive box that I first saw. And I was like, dang, these guys know what they're doing. I need to get a soft touch box. So we did. These are in packs of 10, which is great. And then each one of them has the lot number and the manufacturing date on it. That's so cool.

And they're fully sealed, really hard to do this. And I believe they have a semi automated packaging. The first thing you're going to notice is you open in, this is how quality the fabric is. This is amazing spun. I believe they make all of their fabric themselves and their process look at how even that is. Also one of the few Chinese companies put their name on something. When we wanted to add our name to our rollers, I heard that, oh, like mass companies, don't like to do that because then people can find out where the mask came from. So these guys are standing by it. Let's take a look at the ear loops. Oh my gosh.

I don't think you can hold of a bald Eagle though. What's the... I was really pulling there. I'm going to give this 10. 10, like perfect construction. These guys are great. This thing is never coming off your face. You know, this has been in a box for like, because I got these at the height of the pandemic sealed. So it's been in a box for a long time. I'm curious what it's going to smell like it was on a boat then on a box. Interesting. I'm getting like a slight plasticy smell. But, but I think the way that they seal these is it really protects the smell. So I'm like getting any small, I'm going to call this an empty bottle of hand sanitizer because it's like slightly medically clean. But like there's, there's nothing there anymore. Wow. That's really crazy. All right.

But does it protect you? That's the question now, remember they're not making any claims in the box. They are making claims on the Amazon listing, but I actually bought these on at Costco. So I don't think it's the same box, 89%. I actually thought it would do a lot better to be honest, 89, 89.703% for the BYD mask. This is an early mask. I'm sure they've improved their design. I guarantee, I know. I think they have FDA clearance now. I guarantee you that their ASTM level three mask that says ASTM level three on the box is going to be better than this. Because I've just read so much about their manufacturing process. It's very impressive. This, however, not impressive. I wouldn't put that on my face 89.7%. You know, it happens, love what they did at the height of the pandemic. These are not pandemic profiteers.

Like they invested tens of millions of dollars. A lot of that was going on in China, not with these guys. So I wouldn't wear it though. All right. Thank you guys for watching this. I really appreciate it would love if you like this video to have like maybe like a like, or subscribe or like if you really don't want to give me a like do this, just do this exercise for me, hit the like button, and then unlike it. You didn't leave a like, but I felt it, emotionally. All right, catch you next time.


Details
Buy Mask
3 comments
Can you re-test the new package which they claim ASTM level 3? Thanks
Yes I'm wondering the same as the previous comment made on here. Thanks for the mask reviews!
Good morning,
I just received the BYD Single-Use Surgical Mask as a replacement for the Curad Germ Shield which was out of stock. The box I got has ASTM F-2100 Level III printed on it. It also claims to have been tested to the ASTM 2100 and 16 CFR-1610 standards. Would you be willing to find one of the new boxes and re-test the masks since they seem to have evolved since they first came out? If not, would you test them if I sent you a sealed 10-pack and emailed photos of the box?
Tom West
February 07, 2022
Leave a comment