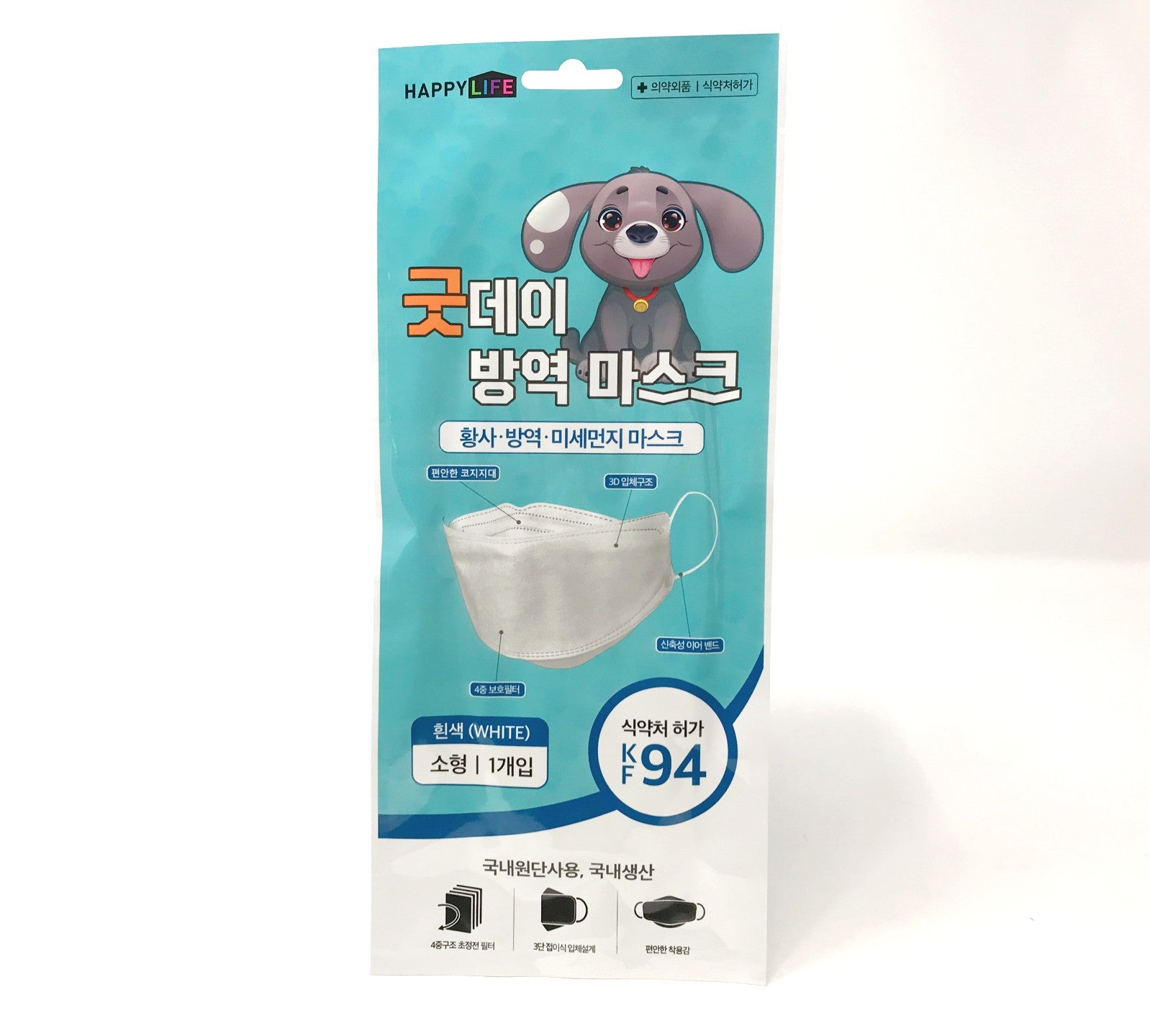 Happy Life Kids KF94 Face Protective Mask
Click here to learn more about our full testing methodology.
Review
Video Transcript

Hey, everyone. Welcome back to the place we're testing every single mask on Amazon. We are finishing out a big run today of KF94s, talking about Happy Wife, Happy Life masks. That's right. Let's put it in the clamper and see where this goes. Of course, if you get your kid a nice protected mask for school that would make your wife happy, I imagine. Would make my wife happy.

There we go. All right. This is a PFE machine, particulate filtration efficiency machine. We are doing the N95 test on here to see if this mask will protect you. I got this like hair, got to get out of there. All right. Just take a look at this listing here. KF94, Happy Life, kids KF94 individually packaged, premium certified face mask. Great safety, anti-trouble skin and easy breathing. Made in Korea, so that's the thing. All KF94s have to be made in Korea. What we've found today, very exciting, is a bunch of fake KF94s that were made in China. They even had Korean writing on them. They were trying to trick us, but look at this. I mean, in Korea, all Korean writing and one dead giveaway is this nice metallic packaging. If it has this metallic packaging, it's probably at least so far a legitimate KF94.

Love the style and the design, super strong. I could probably break it, but then I'd have to open another package and that's annoying. The fabric is so thick that it makes the ear loop or the nose wire not really work as well as I want to. Wow. This smells like a campfire entirely made out of plastic. It's like you went into a department store and had the fake plastic logs and they just set it on fire. That's a little strong for me. It wouldn't be a happy life for me giving my kids this smell, and I'm going to jump over here too.

It's good construction, probably legitimate KF94, but filtration efficiency just seems to be just a hair under 94%, which I actually haven't seen before. Usually, they're way above and look at that airflow resistance, 218, 220. That's not ideal. For a kid, I want to see that closer to 100. For me, I want it to be under 150 pascals. That's going to work for at least eight hours of work for me. That's pretty high. And the fact that this didn't quite meet standards and the smell, I don't like that. There are better KF94s, so I don't know. Maybe there's a lost in translation thing there. When they say happy life, maybe they mean life that smells like plastic. Maybe that's what they meant. All right. Thank you guys so much for watching. I appreciate you, and I will catch you on that next test.
Details
Buy Mask
Leave a comment