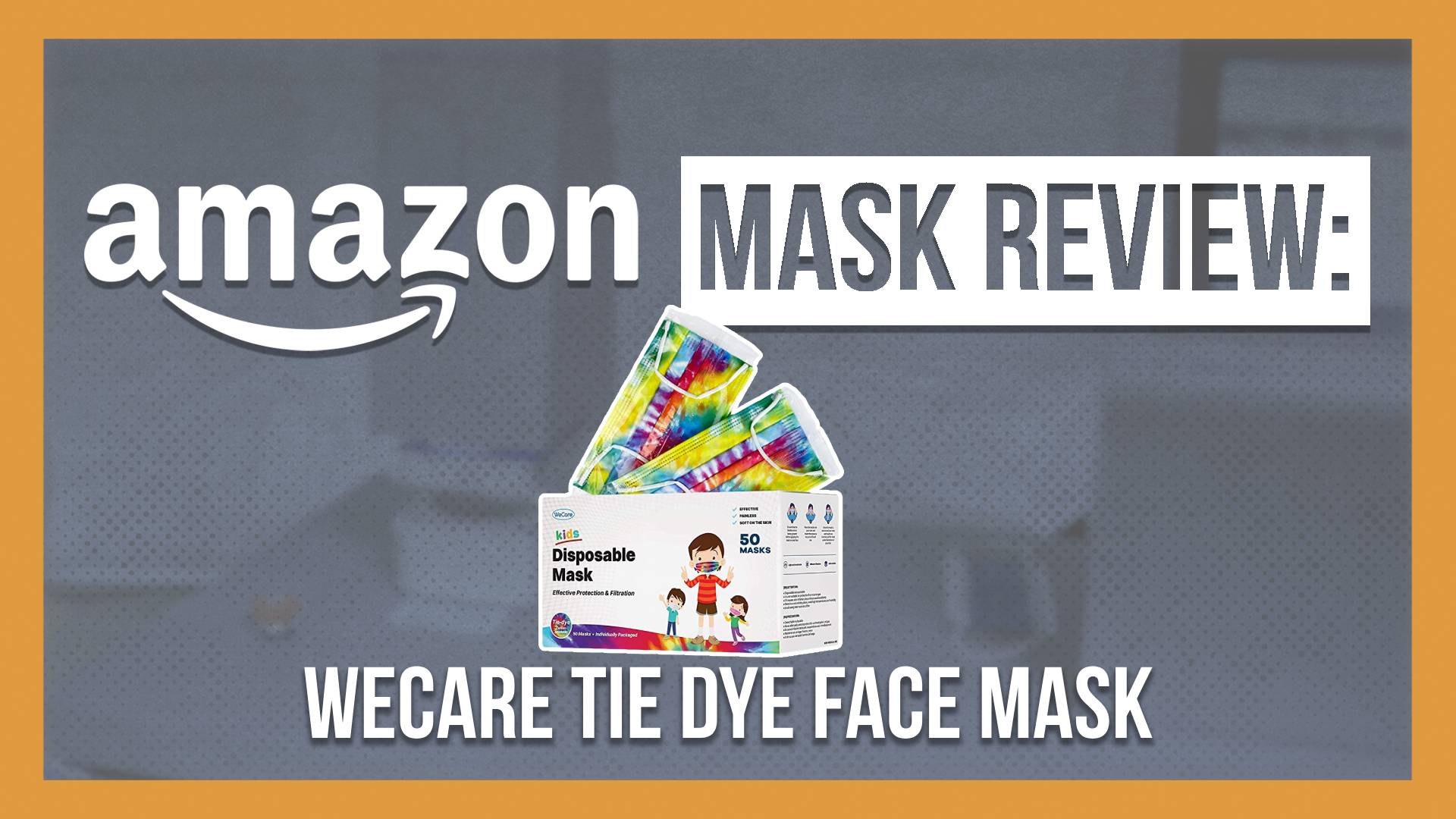 WECARE Tie-Dye Pattern Disposable Masks
Click here to learn more about our full testing methodology.
Review
Video Transcript

Hey guys, thanks for joining today. We are testing every single mask on Amazon and today, or at least for this video, we are looking at the tie dye variety pack by a company called WeCare, which we've tested before.

And I've really liked their mask. I like the way they package things. All right., So we're going to put this into our particulate filtration efficiency machine. What this is going to do is shoot tiny microscopic 0.1 micron particles through the mask, and see how efficient it is. This is an American standard that we have to use, because we are an American mask manufacturer.

The minimum standard is 95%. We tested their kids mask they're at 94. We tested their other tie dye masks, those are at 96. Effective, painless and soft on the skin. That's right, no pain with this guy. And now we are testing these. These are a dollar more, which is weird. The other ones were $19.98. Again, we bought every mask on Amazon. Like we're not messing around here, so this is slightly different. It's a different skew, maybe an earlier skew.

How's the breathability?

We don't know, breathability is actually a lot worse. So the other one was at 98 Pascals. This is at 119, so that's actually 20% worse, so that's interesting. So for me, if I was going to pick between the two masks on just breathability alone, I would pick the other mask. And we'll actually link to that other video so that you can see the other video, and see those masks from the same company, because those might be better. Let's go ahead and open that up, and see individually packed. And we've talked about how we have the same individual packing machine here.

It's really thin plastic that they use and that's why I think this is really good. That's really good. Really quality. All right, I'm going to go ahead and test this guy, and just put it on real quick. Okay, the ear loops are way too big on this. And we saw that with their kids masks, the ear loops were way too big. The reason why that matters is that it actually is part of... Look at how this is like, just fallen off of my face here. It's ridiculous, I don't like that at all. If I was going to pick between them, I haven't looked at the results of the test, but the breathability is better on the other WeCare. And these ear loops are way too big. They're very comfortable and stretchy, but I don't like that.

And it's that same mysterious smell. This one smells like if you were to go inside the actual Build a Bear factory where they have all of the guts of the bears. Where the vacuum shoots, that's what this smells like. This smells like, whatever that hose smells like, it smells like. It smells like the inside of a Build a Bear is what I'm saying, that's more efficient. That's weird. Yeah. I do not like the smell on these ones. I'd personally pass just because of the smell, but the masks are really high quality. I don't like how big the ear loops are on. I think your mileage may vary. Maybe you get some sort of a fitter that makes this better, but I think that ear loops are too big.

But does that matter at all, because all that really matters is does the filter work? That's what this machine is for. So their first masks, their kids masks, were at 94.5%. The last masks were at 96%. This one, these masks are 20% less breathable, so usually that means higher filtration. So what do you think this one is?

Let's go with 97.

94.09, worse than the kids masks. I think what's going on, this looks like an earlier design. And I think what's going on is that the outer fabric is thicker, and that outer fabric it's just for aesthetics. And if that thicker fabric if it's just making it harder to breathe, it ain't protecting you. That outer layer does not have any sort of filtration whatsoever. So I wouldn't buy these. Compared to other Amazon masks, yes, but this one was a dollar more. This is probably just like this is like one of their first versions. And they're just trying to get rid of these or something. I don't know. But compared to the other, WeCare masks I like some of the other ones we tested. All right, thanks guys. Appreciate you watching. If you found this useful at all, please like and subscribe. It would help us a lot. And I'll see you on the next test.


Details
Buy Mask
Leave a comment