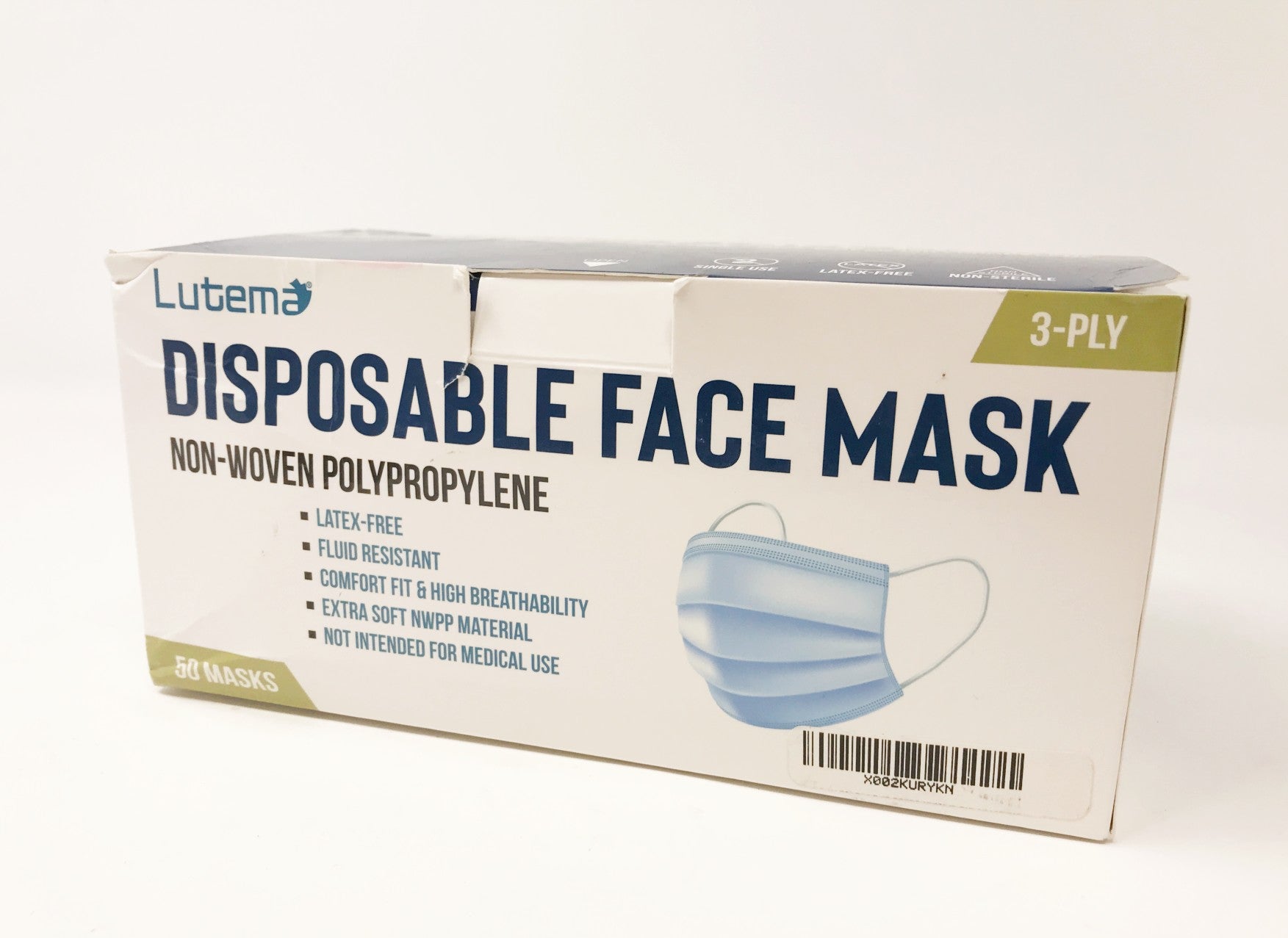 Lutema Blue Disposable Face Mask
Click here to learn more about our full testing methodology.
Review
Video Transcript

Hey, everyone. Welcome back to the place where we're testing every single mask on Amazon, even those that have so many listings we have to test them again, and again, and again, and again. Talking about Lutema today. Let's get it in the clamper, and I'll tell you more. Lutema is a made-in-the-USA brand. They have a lot of KN95, which they call the... Oh, come on. You got it. Lloyd, you got it. Didn't think I would get there, huh? You didn't believe in me. Well, you were wrong. This is a PFE machine, particulate filtration efficiency machine. We're doing the ASTM test here, so you don't have to. This will tell you what percentage your masks will filter.

We bought a bunch of these Lutema masks because they have so many different kinds. We basically looked at all the most popular masks on Amazon and purchased, purchased, purchased, purchased because I hate money, and we weren't paying attention. We ended up buying a lot of the different kinds. I think this is the light blue version of their three-ply mask. Let's look at the box real quick. They're an American manufacturer. I know these guys started manufacturing at the top of the pandemic. Look at this, "Hello. Thank you for your order." That's so nice. It's so nice. I got the lot number right there. It's great for traceability. Going to pull out some of these.

They're not making any claims on the box or on here about what kind of filtration. They do have some ASTM Level 3 masks you can buy on Amazon. These are not them. Oh, that was great, and you could tell I was going to... if I really put the pressure on. How about I'd give them a little ding on this? When we were first making masks, we got a lot of this weird folding things. We just didn't know how to put them together. They figured it out, though. Their new stuff's a lot better, made in the USA right there. Let's put it on.

Nose wire could be better. Oh, interesting. I'm going to call this smell an Ikea cafeteria. I've been shopping for a while. I'm hungry. I'm going to eat whatever that is, Ikea. Oh, one more test here. Just, yeah, that's pretty good. That's not coming off, but does that matter if it doesn't protect you? Now, remember, oh... I glanced. I did a glance. Okay.

These were early masks. I could tell by the way that they were being manufactured. You could just tell when something is not going through the machine evenly. Remember, these masks are making no claims. They do sell ASTM Level 3 masks on Amazon, and judging by what I just saw, I'd recommend you head on over there and buy those. These normal blue, which I don't even know if they make them anymore, I maybe stay away from them because 64.9%. 64.9%. So, the basic blue Lutema three-ply, made-in-the-US mask, got to start somewhere, and that's what these guys did, their newer stuff way better. Remember, they have ASTM Level 3 masks now. Check those out.

You could give me a like or subscribe, but instead, you know what I'd like? I'd like you to show up tomorrow 10:00 AM, and I will see you here with another test. That's right. Every day for the rest of the year 2021, we are going to be throwing down more tests. We are buying so many masks. I just don't even know what to do. Don't even know what to do. Actually, I do. I'm going to test them and show them to you tomorrow. See you then.
Details
Buy Mask
Leave a comment