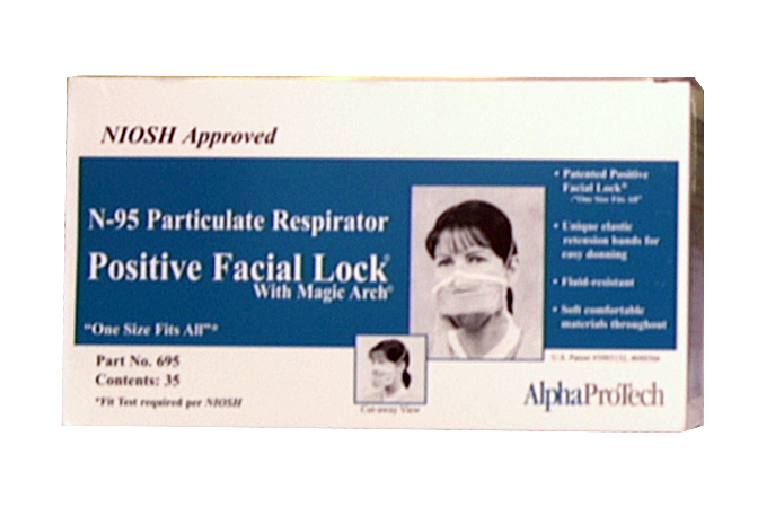 AlphaProtech - NIOSH Approved N95 Particulate Respirator
Click here to learn more about our full testing methodology.
Review
Video Transcript

Hey, everyone. Welcome back to the place, we're testing every single mask in the world. Very excited to test the Alpha ProTech mask for a couple of reasons, which aren't really good ones, to be honest. This is an American made mask company.

One of the OGs from back of the day, I don't know them really very well at all. I'm only testing it because I got a submission, to Lloyd Armbrust. Can you test this N95 respirator. I want your opinion on this respirator, please make more YouTube videos. It is awesome to watch. Well, thank you for being one of the 18 people out there. Very small group, very select group of geniuses, who love watching these videos. All right. So why am I excited to test the Alpha ProTech? Okay. First of all, it's a very weird looking design, which I'll show you.
I've never worn it before. So I'm excited to wear it. It provides a lot of breathability, but it looks weird. They also have patterns in a lot of their... over their mask, which is really cool. And also look at this box. I hope I'm not being too much of a throwing too much shade here, but this box looks straight out of 1970. Am I right? 1980, maybe. What's going on here? Is this box from today? This is crazy. This seems it's from the past, it looks like it's taken out of one of those, nuclear silos, it's underground. What is that movie where the guy emerges from one of those things?

Now the time has come for Adam to step out and discover the world.

What is that called? Blast from the Past? It's like the Blast from the Past situation. That's what this reminds me of. But I'm excited because these guys have been making N95 masks for in, I think salt lake city for a really long time. I can only assume that is a really good product. So let's do this. Let's stop yapping about the design of their box and let's open this up. So the first thing I noticed when I open this up, first of all, it's 30 or something. 35 masks, weird, never seen that number and look at how they're packed, real nice. I like this L-Bar sealer packed and they're just real tight in there. I'm thinking that's got to be done by hand, but this is a great... I really like the way that it's packaged. Not a soft touch box. This packaging was invented before soft touch was invented. Okay. So I never used this before. Only seen pictures of it. So I'm not even really sure how to do it. Wow. This is bananas. Okay. It's got wires on both sides. All right, let's put it in the clamper.

I'm sure this is going to test well. I'm sure that it is going to test well. Here we go.
And let's let it rip. There's a PFE machine. Particulate filtration efficiency machine. I'm taking NaCl. I'm shooting it through the mask. So think it goes the other way. I think it's like sucking it to be honest. And we're testing to see how much gets through. That's what this guy is designed to do. So while this is running, we're going to talk about this mask. Man this is one of the original mask, N95 mask manufacturers in the United States. I'm assuming it's a family owned business. I'm not a hundred percent sure. Just because they're definitely not 3M. Very weird design, I mean unique. Let's use the word unique and not weird, people don't like the word weird. I like the word weird. I like this. So it's got this whole thing here is a nose wire. It's a wire, a very thick, probably aluminum wire. Bottom, aluminum wire. Okay. So you know, that's going to aid with fit and actually I'm going to have to look at the user instructions to see which side is... I think that side's up. Okay. So I'm going to put this on here. I think.

Oh yeah, there we go. Wow. It's pretty good, actually. Doesn't that look bananas. Look at this.

Okay. I'm going to say, first of all, that this smells like an old box. It smells as old as their design is on this. But look at how cool this design is. So you see here, I'm getting a full seal on the bottom, full seal on the top. And I'm getting all this breathable space. So filters are as breathable as much surface area as you have. So what they've done with this really ingenious design is they made it so that the filters just huge, you're wearing this huge filter, which is super easy to breathe in. This may be the most breathable mask I've ever used. I mean, look at it. It looks kind of crazy. To be honest, it looks bad (beep), insane. You're like, you walk into a situation with this and a bunch of people are wearing this.

You're like, I am going to go back to sleep because this nightmare needs to be over right now. They're actually lessening the blow a little bit by putting this kind of nice pattern on there. Right? Oh, and it's got a support structure here and here too. Wow. This thing, there's a lot of tech and money in this mask. In the ear loops its very... The ear loops the head straps. It's very comfortable. It's extremely comfortable, extremely breathable. We'll see what the efficiency is on this. It could be that this is actually just old, to be honest. I'm not sure. I don't know anything about this mask obviously. Lets take a look at the PFE now. I already glanced at it. So I'll tell you it did hit 93%, which would be below the standard.

I'm not really sure why to be honest, it was sealed in the packaging. Interesting mask though. Very excited that you sent it to me. Thank you, John. I think I'm going to order some from their website so I can test directly because I want to give them another shot at this. Thank you guys so much for watching this review on the Alpha ProTech mask. One of the OGs in the N95 industry in the United States. And thank you, John for sending this, I think we've got some other masks that John sent us. So stick around and I will see you on the next test.


Details
Buy Mask
Leave a comment