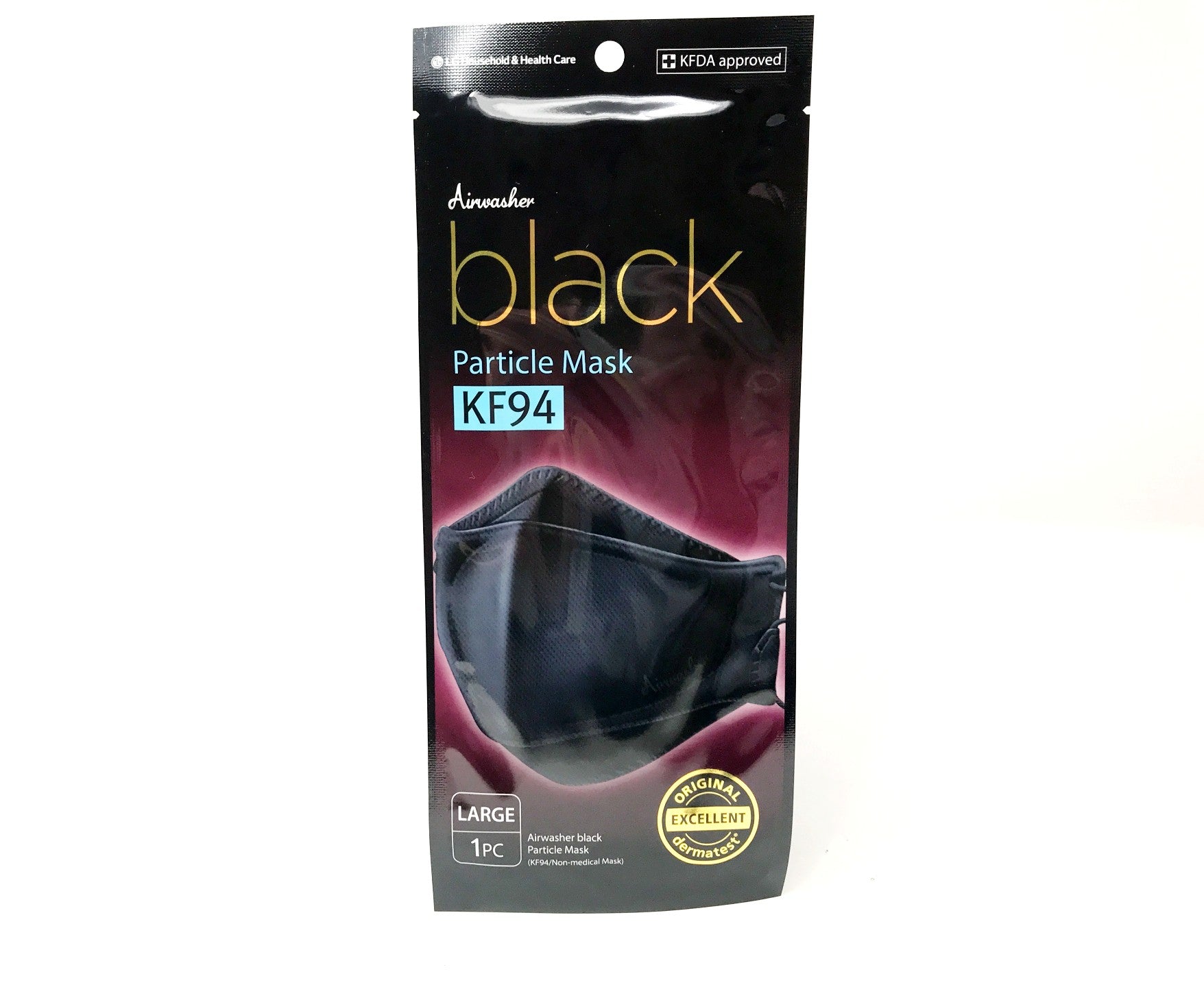 LG Airwasher KF94 Disposable Face Masks
Click here to learn more about our full testing methodology.
Review
Video Transcript

Hey, everyone. Welcome back to the place. We are testing every single mask on Amazon, including the mask companies that also sell TVs and dishwashers.

Yes, I'm talking about LG making a comeback, getting masks and washing your air. Air washer. That's right. Let's put it in the clamper and see just how well this washes your air. See what I did there? Is that LG household health and care? I didn't know they made stuff like this. I like this. Look at that. Wow. That packaging looks awesome. LG, you should consider selling condoms because I think LG man! No? Too far?

It's interesting to see the things that get cut out. We never know. Letting it rip, this is a PFE machine, particulate filtration efficiency machine. I can tell you more about what this thing does, but the gist is that it's an N95 test. We're doing the N95 test on a KF94, using the American standard to give you a benchmark of if this mask is any good or not, because I'm sure you're looking at this. Whoa. It says, wait a second. That's not correct. This is like being lost in translation. This is saying 3D reusable, adjustable cloth face mask.

I don't think so. I didn't even, no, this is not reusable nor is it cloth. This is a spun polypropylene. That's so weird. That is definitely a mistake on the Amazon listing there, that says it's a cloth face mask. It is not cloth and it is not reusable for what it's worth. KF94s have to be made in South Korea. That's part of the South Korean standard. Nine times out of 10, 99 times out of a hundred, a KF94 mask that looks like this, is going to test really well in our machine. They just knock it out of the park typically. In this case, LG is making, which is a consumer electronics brand for the most part. I'm sure it's a multinational. They make a lot of things. They're making a mask, which is weird.

GM tried to do that, and in the amount of time, they were able to make a million masks total. We made a factory that could make a million masks a day because we specialize in mask making and they make cars. So GM, great cars. Love your cars. Drive your cars. Stay out of masks. So it'd be interesting to see how good the air washer is. I'm going to try this real quick. Oh, it's one of these adjustable things. So check this out. I'm going to show this. We've got a lot going on in the background. They're picking up all of my Amazon boxes from all of the masks that we bought. I think I would know how to put on a mask by now.

This one's a little weird. Oh dude, that nose wire's fire. That's awesome, and then it's got a little pulling adjustable thing-a-ma-diggies. This is a technical term.
It's not ideal though. I've seen this before. I think the ... What's the name of it?

There's a brand that has this. Ow, got my beard cut. Probably do that before. Oh wow. That seal is awesome. Ow, it's a little kind of hurts there. All right. Great seal. Breathing in. I'm going to call this smell LG's campfire. It's barely there. Tiny, tiny smell. Pretty good construction. It does get, if you have a little beard, probably do this when it's not on your face. That hurt a little bit. I'm thinking that this is going to be a little brittle. Wow. Way off. Whoa. That is a great. Wow, the construction on this is just amazing. Okay, LG. All right, I see you. You're doing that. But does any of that matter the construction and all that, and the fact that they're lying about being reusable?

Does that matter if it doesn't protect you? Because if this machine doesn't say at least 94, you know that it's not meeting the standard. Well, we don't know that because we don't actually know what the standard is, but I assume that's what the 94 means. So let's check it out. All right. 99.072. But I did spy something in my little eye when I was talking to you, and that is that the airflow is horrible. In fact, this might be a record for horribleness. I saw it hit almost 300. So this here, airflow resistance, that number there, is the breathability of the mask. Oh 320, 300. N95 has a max of 250 pascals. After that, it's considered not a breathable mask. This mask, if you're wearing it on your face, it's great if it has a 99% protection. But if you can't breathe through it, then air will find its way around or you'll pass out and die.

So the fact that the breathability is so high, LG, I wouldn't call this the LG air washer. I would call it the LG air blocker. Blocks a lot of air, like 99% of it. Can't breathe through it. So I wouldn't recommend this mask. There are definitely better masks out there. Wow. That was a good one. That was fun, because I thought it was great and I was excited, because I love LG, and I found out that you can't breathe through the dang thing. All right. Thank you guys so much for watching. I hope you enjoyed this video as much as I enjoyed making it and I will catch you on the next test.


Details
Buy Mask
7 comments
Dear Airwasher Team,
I hope this email finds you well. I am writing to express my interest in becoming a wholesale customer for your products.
After conducting extensive market research, I have identified your brand as one of the leading providers of high-quality products in the industry. I am confident that your products will resonate well with my customers and meet their needs.
I am impressed with your minimum order quantity, and I am willing to meet your requirements. As a reputable and established business, I believe that we would be a valuable partner for your company.
However, if it is not possible to approve our wholesale request, we kindly request you to provide us with a list of your authentic distributors so that we can purchase from them. We understand that you have strict standards for your distributors, and we will ensure that we meet your requirements.
Thank you for considering our request. We look forward to the opportunity to work together and build a mutually beneficial partnership.
Xavier marti
May 01, 2023
This is most definitely a flawed test. I've been using these since the beginning of the pandemic, and they are among the best fitting, most breathable KF94s I've tried (and I've tried a LOT of them)
Seems like Lloyd owes this a retest, as well as a real-world face fit, given that almost nobody (including Aaron Collins) agrees with his findings.
Mel Matsuoka
May 01, 2023
Terrible review that contradicts 95% of user experiences, and a multitude of professional reviews. Probably one of the best masks and mask brands out there. What's the pint of this website anyway?? Definitely has an agenda and trying to sell an inferior product.
Terrible review that contradicts 95% of user experiences, and a multitude of professional reviews. Probably one of the best masks and mask brands out there. What's the pint of this website anyway??
wrong! the LG kf94 is extremely breathable. Been wearing them for months. after 2.5 years of many different kn95's, these are a relief in fit and function, including breathability.
your machine failed you. retest!!!
James Niss
February 10, 2022
I haven't used the Black Airwasher but the White has great breathability. It's my favorite (and my wife's) mask out of several that I have tried. Great fit, adjustable earloops, soft inner material, GREAT rigidity so it doesn't collapse on your nose/mouth when you take a big breath in.
Availability is an issue but this is the case with a lot of the better brands.
Love what you've done with the database – huge public service.
I've been using these air washers for some time based on Aaron Collins's review / endorsement. Given the stats he put up, the pressure drop he mentioned was quite low and appeared to be in line with KF94s.
So as a daily user of these masks (and tester of many others), I'm frankly shocked they scored so poorly on breathability. Almost feels like it has to be a machine error or something.
Any chance for a recheck on that?
Leave a comment