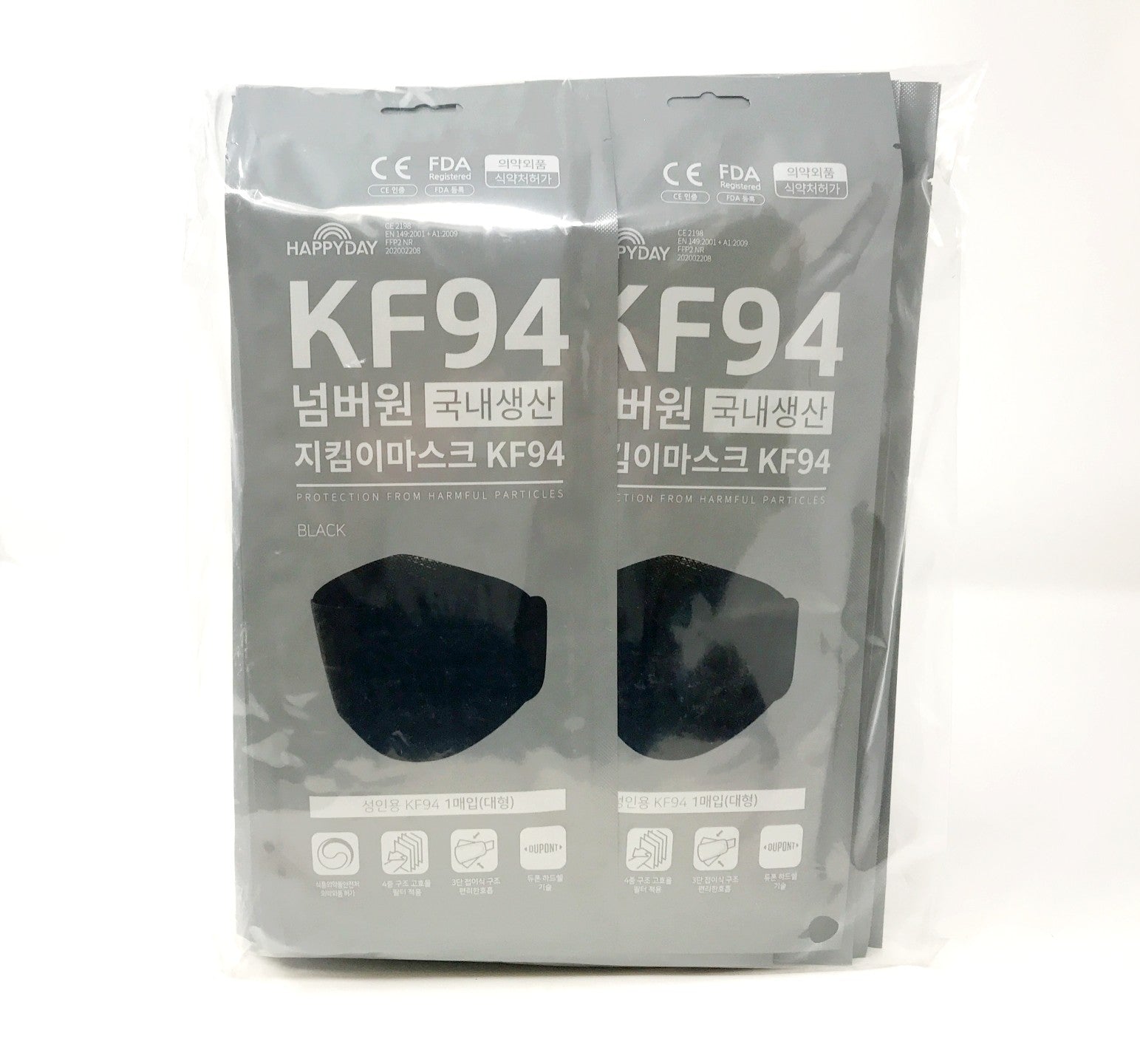 HAPPYDAY KF94 Face Mask
Click here to learn more about our full testing methodology.
Review
Video Transcript

Hey, what's up, guys? Today is a happy day if you speak Korean. But, if you don't, you can go on to Amazon's website and then see that it's a happy day. We're testing the HAPPYDAY mask. Let's get into it and stop yapping.

Maybe we're testing these masks. Oh, man. I went on Amazon and I typed in scissors that are unreasonably large and this is what came. There you go, new too. I'll put an affiliate link on the bottom, just kidding. None of my links are affiliate links because I clearly hate money. All right, let's open this up. Forgot what I was doing for a second, testing masks. I just got to remind myself of that. Oh, look, a actual KF94. This is a KF94, one of my favorite styles. A fine young gentleman by the name of Aaron Collins, who has a way larger following of mask nerds than me, showed me the KF94. KF94 Korean format, very excited, you can buy so many of these on Amazon now. In fact, I'm so happy. You would say that today is a happy day.

Keep that going.

Keep it going? Okay, 25 pieces. Here's what I love about KF94. KF94 is not often counterfeited, because it's a Korean standard and it has to be made in Korea. The Korean FDA is regulating these masks because it's on Korean soil. Is Korea large? Is it a large country? I've seen better on the ear loops. It's about the population of Texas, but I'm actually not sure about the landmass. It seems to me that the Korean FDA is really good at policing their manufacturers.

Okay, this is interesting. This is a little higher than I'm normally seeing and it feels like a lighter mask. The nose wire, I want it to be stronger. I feel like I'm getting like a leakage here, but the smell is almost nonexistent. It's barely there, a slight plasticky smell. I often say that the Korean KF94 smells kind of like a campfire burning plastic. This is like a barely a campfire burning plastic smell. Really great breathability, I was just glancing at that. No drama today, 99.489%. Got to love that, 99.489%. 135 pascals on the breathability. In case you need to know, 150, that's about the max you want to see if you want to be able to breathe in that sucker all day long, and this one is going to be good. Our surgical masks test at 125-135. From a pure numbers standpoint, this is a good mask.

They're about $1 apiece. They come in this beautiful, single-packed... Well, the package... This is weird. I don't know what's going on with that. They're just kind of flopping all over the place but other than that, pretty good mask. Happy day when you get the HAPPYDAY masks. Thank you guys for watching. I will catch you on the next test.


Description
Who wouldn't be happy wearing a boat on their face to keep out harmful particulates from invading your lungs? That seems to be what's implied by this boat-style KF94 mask produced by Korean manufacturer HappyDay. The masks, which we purchased on Amazon, come individually packaged within the box. Also, ensuring that the country of Origin is Korea (as is the case with any real KF94 mask) means they're legit. Our tests show the same as you can see.
Details
Buy Mask
2 comments
Would you recommend the children's size in this? Is it the same thing just smaller?
Thanks for this information – I had purchased some of these but was a little suspicious due to the thin filter – but having done some research I discovered filter thickness can vary by as much as a factor of 8.
paul Dendle
July 12, 2022
Leave a comment