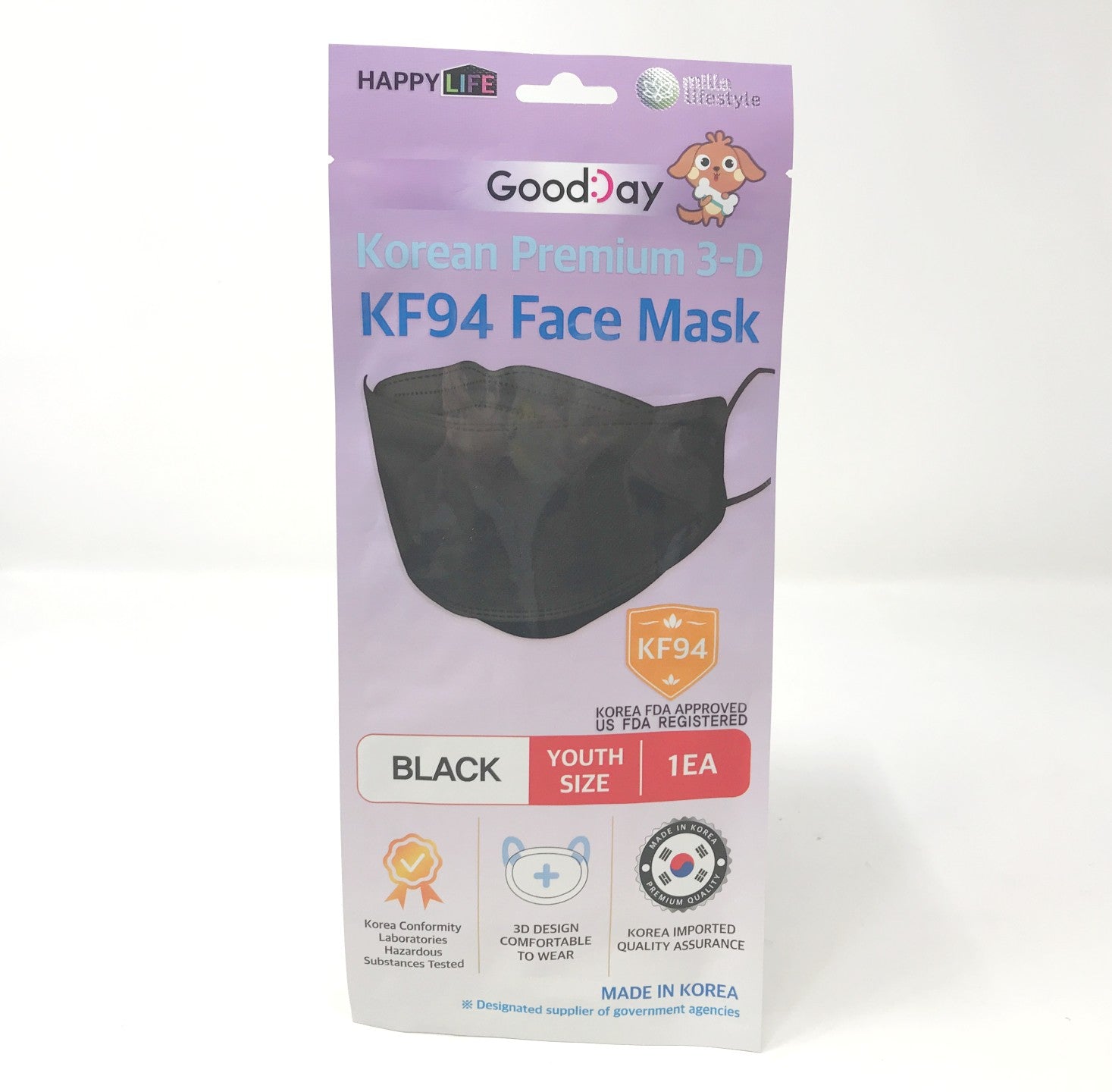 Happy Life Good Day KF94 Kids Mask (Black)
Click here to learn more about our full testing methodology.
Review
Video Transcript

Hey, everyone. Welcome back to The Place. We're testing every single mask on Amazon, including KF94s for kids, ages five to 11. Good Day, English, black, small, certified KF94 Korean mask. Keyword, stuffing.

Let's put it in the clamper and see how it goes. Now, we have gotten a lot, not a lot, but we've gotten some counterfeit KF94s. One of the things I say to look for is the packaging. KF94s are typically individually packaged with this metallic packaging and it's really, really nice. It'd be hard to do in the United States. Be cost-prohibitive, and the Chinese knock-offs don't seem to want to pony up for it yet. I'm sure it'll happen.

Let's let her rip. This is a PFE machine, Particulate Filtration Efficiency machine. If you want to find out how that guy works, check out that link up here. All right, here's the deal. KF94 is a great format. I think the reason for that is that the Korean FDA, KFDA, they're really on top of their stuff. I'm going to look at the thing here. Youth size. One each. Korean imported quality assurance. Not sure what that means. And designated supplier of government agencies. Korean conforming laboratories hazardous substance tested. Made in Korea. Seems to be legit.

Let's try it out. Oh, that's great. Ear loops are amazing on that. Almost every KF94 I've tested that's legitimate, except for one or two, has exceeded the 94% standards. This is really thick. This is not very breathable at all. This smells like hot, melted plastic, for sure. I don't think it's going to break on the face, but it's so hard to breathe through. I'm feeling the air go through the tops and the sides here. This is made for a kid? That's way too big for a kid. The breathability is not good. In fact, I'm going to ruin potentially a great moment here and switch over to the screen, because we're going to see right away, they're failing their standards.

After all that hype. Ah, Good Life for Good Day. More like bad day. But I want to show you this airflow resistance. We want to be closer to 100 pascals, and this has climbed 290 pascals. That's super hard to breathe, and especially for a kid. I want to see below 150 pascals, but for a kid I'd love to see it closer to 100, and being 290, almost 300, that's not going to cut it. Also, this isn't going to cut it. I'm not going to go ahead and say this is a fake. It seems real. It's weird how hard the listing went on certified, authentic, blah, blah, blah, blah, blah. I've never seen these all these symbols that they have on here. I haven't seen that on KF94s before. They're going really hard. Then to come out with an 85.779. Oh, that's sad. Come on guys. They don't have good fabric in the mask. That's really bad fabric.

Plenty of good KF94 S out there. I would check those out. I'll put a link to all of our tests so that you can find the ones that you would choose from Amazon. But if it were me, it wouldn't be this one.

All right, guys. Thank you so much for watching. I appreciate your time and attention. We got something running right now. Leave a comment. Any comment below, and something cool could happen to you. It's not an abduction. It's not a Liam Neeson situation. That's a weird ask though. I got to tell you. I'll catch you on the next test.
Details
Buy Mask
2 comments
How come the results from the video are different from the one posted?
Victoria
December 16, 2022
I am a regular Happy Life user and can I ask how you did the test?
If you watch the YouTube below, Happy Life masks rated top with the test. Watch from 4:30.
https://youtube.com/watch?v=WE5Uo3F2TdU&feature=share
Leave a comment