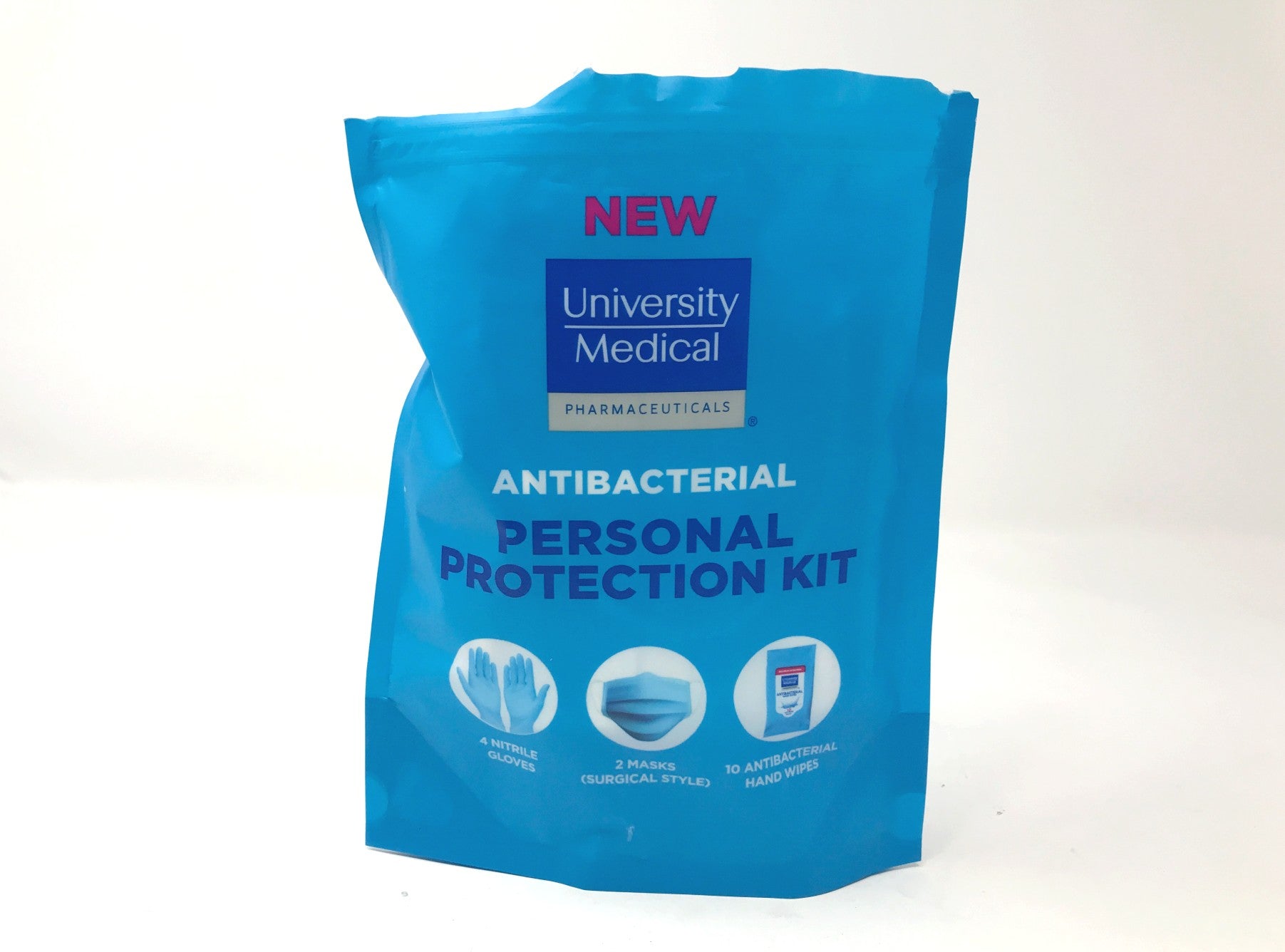 University Medical Surgical-Style Mask
Click here to learn more about our full testing methodology.
Review
Video Transcript

Hey, everyone. Welcome back to the place where we test every single mask on Amazon. Today, we are looking at the University Medical Pharmaceuticals mask that I think someone on our team bought at CVS. Let's put it in the clamper and see what happens.

Alrighty. Wow, this is actually a very small mask. When you open it up, it's usually much bigger. All right. Let's let it rip. This is a PFE machine, Particulate Filtration Efficiency machine. If you want to find out more about how this machine works, check out that link. We are doing the American surgical mask test here.

American masks have a minimum 95% that they need to hit. So this is antibacterial personal protection kit. I don't like that because it makes you think that the surgical masks are going to be antibacterial. Comes with a bunch of stuff. I've actually never opened one of these, but I've seen these peddled before. We had somebody reach out to us for our masks they wanted us to include in a kit. I don't like it because the style is you have to fold the mask in half, which I don't like. But everything comes individually sealed. You've got some wipes, you've got some gloves. Surgical style masks in the United States, the word surgical is regulated by the FDA, which means you have to go through a 510K clearance process. I would highly doubt that these have gone through that. Made in China. Considering they're not saying the manufacturer of the surgical mask, this is not a cleared mask. It's literally impossible. Only have two masks to test so can't get too crazy. I'll check out the ear loops after, I just want to put this on. This is a very light mask. Holy cow.

Okay, this is interesting. This smell is like, this must be me, but it reminds me of my elementary school science lab. I don't know. It's a very, very thin nose wire. This might be the thinnest nose wire I've ever put on so that says something. And I'm going to, yeah, and the ear loops aren't that great. Well, that one wasn't bad. But does that matter if it doesn't protect you? Remember, we are testing to the American standards here. If this was a surgical mask like it was sort of claiming on the packaging, it would have to be a minimum of 95% in the United States.

That's exactly what this machine tests, the ASTM test. What does it say? 91.40, 91.49. That would fail the lowest standards in the United States, which is an ASTM level one. Personally, I like to see ASTM level two or level three, which is 98%. So it's far away from that. Still not the most horrible mask. And I'm looking at the breathability. Breathability was 102 pascals. That's pretty breathable for the test that I'm doing here.

All right guys, thank you so much for watching. I hope you've appreciated this. If you see this thing, I couldn't find this online. If you see it online, send me a link below. I'd much, much appreciate it. Thank you so much and I will catch you on that next test.
Details
Buy Mask
Leave a comment