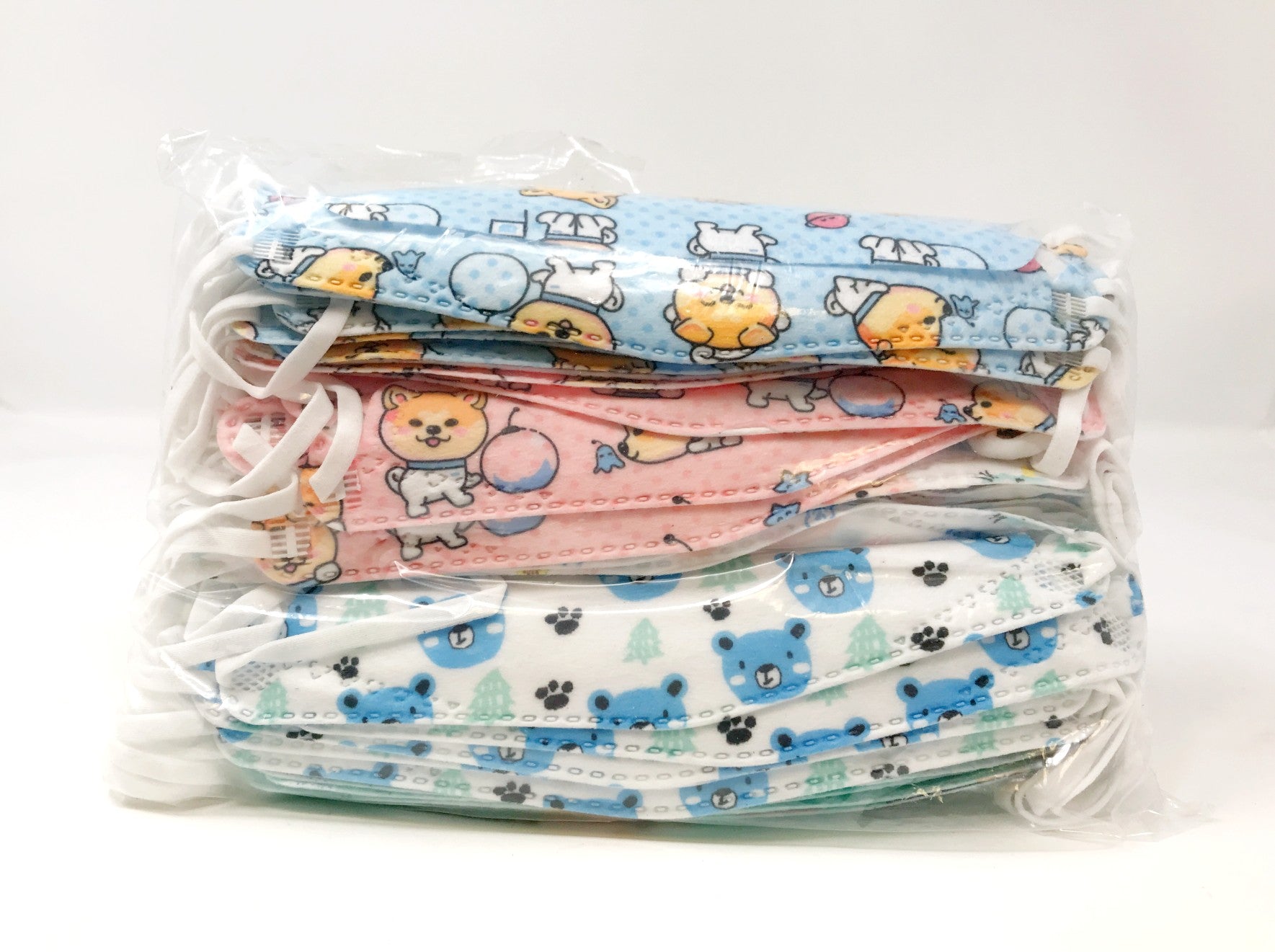 Lennos Cartoon Face Mask
Click here to learn more about our full testing methodology.
Review
Video Transcript

Hey, everyone. Welcome back to the place, we are testing every single mask that we can find on Amazon. Today we are testing Cartoon Face Mask by... Lannos? Lennos. By Lennos. Let's put it in the clamper and see what happens. Now, this is what often looks like a KF94 design, but they're not making that claim. And it's made in China, so we know it's not a KF94. Very soft fabric though. And you know why it's soft is... I keep forgetting this. I'm really just talking to myself here, it's pretty obvious. In order to get that really nice pattern on the outside, what they have to do is print a very thick outer layer, otherwise the pattern won't adhere. I'm going to start this test before I yammer more. This is a PFE machine, particulate filtration efficiency machine.

But there's nothing on the packaging here. This package is just a bag flopping around. Oh my gosh. Look at this. This is disgusting. Can you see this? It's got a black hair, which is clearly not me. It's really long. Look it. That's gross. And it was stuck on the label. There was a certificate that came with it. And for better or worse, I've gotten good at... Okay, so it does say in tiny letters, you probably can't see it, GB2626-2019. That is the KN95 standard. Now it doesn't look like your typical KN95. A typical KN95 looks something like this, right?

Looks like a KF94, right? Like a Korean standard, but they're holding it to the KN95. And it just so happens that my machine here is calibrated to test that. Let's take a look at the listing again. Did that girl's long dark hair get in our masks? Is that what happened? It is saying KF94, real KF94. That's not a KF94 because this is made in China. And there's the manufacturer name right there. And one the parts of the K94 standard is it has to be made in Korea.

Let's take a quick look here at the ear loops. They look super strong. I could hold up the KF94 and the KN95 standard with this. Very strong. That's not going to come off on a kid's face. I have been doing this thing with the Chinese ripoffs of the KF94, for some reason, the bottom weld is not very good. That happens to every Chinese knockoff. All right, I'm going to try the guy here. Oh my gosh. This is made for a much smaller face. It kind of fits. It's a good nose wire. I'm going to call this the inside of diaper packaging. If anybody here's had kids, you open up the new diapers and you pull out a diaper, that's exactly what it smells like, new diapers. Interesting.

This needs to be 95% or better, 94% or better. And here it is, 96.993. 96.993. Now, the breathability was pretty bad. Breathability was 233 pascals, which is not ideal, especially for a kid. I want to see it closer to a hundred. The Chinese actually came up with a new standard, the 38880 standard. And that has to be under 45 pascals for breathability, which is just great for kids, I think. So for me, trying to choose a mask, even with the cute designs, this would be a Star Wars these are not the masks you're looking for situation. These are not the best you're looking for.

All right. Thank you guys so much for watching. I appreciate your time and attention. Not going to ask you for a like and subscribe. I wouldn't do that. I'm not asking for handouts here. In fact, I want to give back to you. If you wouldn't mind, leave a comment below about what you think of this video or about my hair keep falling in my eyes, whatever it is. I don't care. We're going to reward you. You for that every 24 hours, I'm going to pick somebody, send you something special. There's a link and I will catch you in the next test.
Details
Buy Mask
Leave a comment