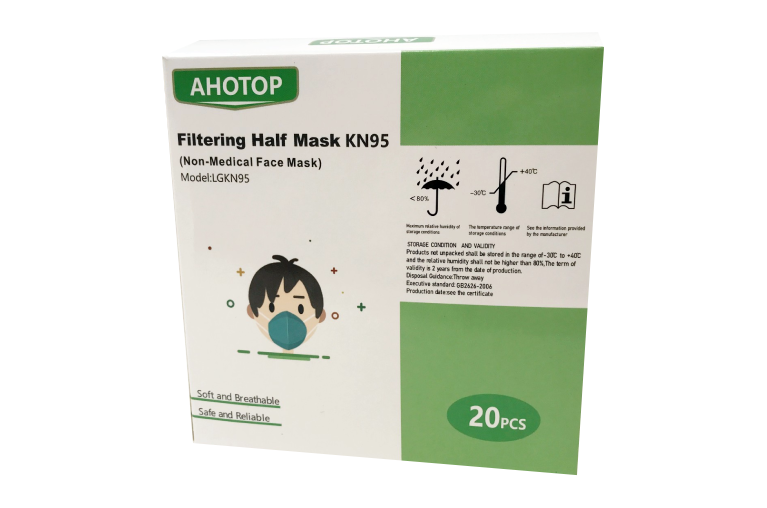 Ahotop / Summit Person Starry Sky Disposable Masks
Click here to learn more about our full testing methodology.
Review
Video Transcript

All right guys, we are testing every single mask on Amazon. And that means that things are getting a little weird over here, because there are a lot of masks. Today, in this video, we are testing the Summit Person, disposable protective mask. Now, if you were going to open this box, right, that says protective mask for civil use. I don't know what that means. What would you expect to see inside? Would you expect to see a rave? I wouldn't.

That's right. The rave mask. We are looking at the rave mask today. These are actual disposable masks with a really weird, but kind of cool pattern. I'm excited to try it out. Let's do it. Summit Person, at least they're trying a brand name. They took two random words and that doesn't make any sense. All right, let's get this going. This is a PFE machine. If you want to know how it works and you want to know what we're not testing, check out the description. We're going to put a link in there that explains all of those details. This is a weird mask, man. You know, I like that they're packs of 10. You could put them in your gun holster, you could put them in your fanny pack. That's where you'd put them, I'm sure.

I like the packs 10. I don't like that these are easily opened. And the reason for that is, you know, that allows like smells and other things. It's something you're going to wear on your face. So I like it to have a little bit more protection than that. Again, they're I don't like this. They're making the mask backwards. They do this to show a better design on the front where the masks were designed for the ear loop to be pulling back against the face, to give you a better seal. So they've designed it the opposite way. Anytime you see that, you know that that's a manufacture that is prioritizing design over function, design over safety. And I don't love that, but this is a pretty well put together mask. I got to say, this is quality construction.

I'm betting, just by the way it looks, this is coming apart really easy at the seams. No one's going to do that. I don't think again, I think that's just one of those things to be all right, well, if they didn't calibrate their Sonic welding machines, right. You know, to get through that plastic on the front end, what are they not doing on the QC side? What are they missing? Are they putting good quality melt blown in here? That's going to protect you. Getting a pretty strong plastic smell, plastic petroleum type smell. I would say over 50% of the masks that we've tested. But dang, if this thing doesn't look cool. I'm like floating in a black hole. I'm in the star system. You can't get me coronavirus because I'm in the sky.

No, that's not what you see? Okay. That's just me. So you got to trade off. You got to make trade offs, right? Do you want the breath-ability? Which this is a little bit low on. Do you want this to not smell like gasoline has been spilt on your shoes? Or do you want to look like you're, you know, in a space vortex? These guys have made a really weird claim. In the ad, they claimed 90% efficiency, which we've never seen. Actually they claimed about 90%.

About 90%.

Well, we actually have a lab here and it will tell us what the actual filtration is. So what is the filtration? Do you think of the space masks?

About 90%.

He's waiting to say that the whole time. That's hilarious. You're right, it is about 90%. Truth in advertising. The efficiency is 92.42%. 92.42%
Yeah. That's pretty good for space. I'd say the trade off of getting space on your face is probably worth a little bit of risk. Hey look, if you were going to go and you had to go to the grocery store, had to run in some ways real quick, you're not going to be there for very long. Wearing a mask like this, it is kind of an interesting conversation piece. It's not terrible efficiency. What is the price on it?

$14.99.

$14.99. Dang if that ain't a deal. I mean, it's hard to beat that. Summit Person, you got a weird name, you got a weird design, I kind of like you. Thank you very much for watching and stay on this amazing testing journey with me as we go onto the next one.


Details
Buy Mask
Leave a comment