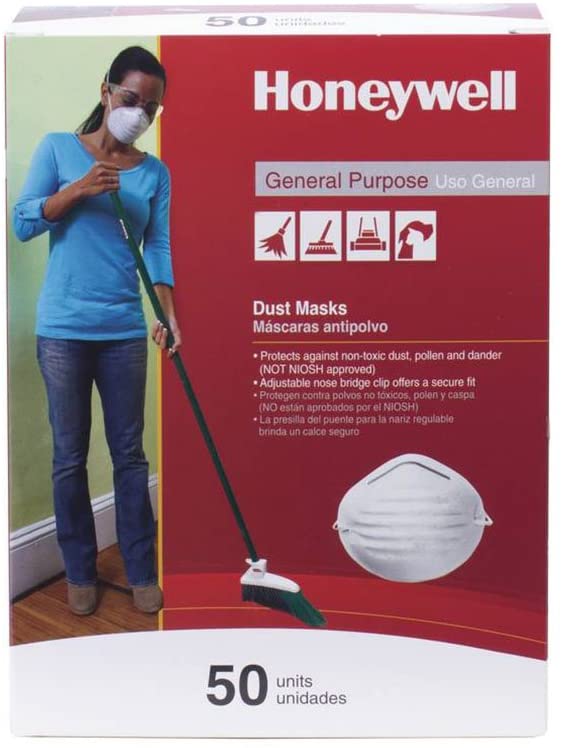 Honeywell Disposable Dusk Mask
Click here to learn more about our full testing methodology.
Review
Video Transcript

All right guys, welcome. Today we're testing every single mask on Amazon and we're finding some weird ones. We tested most of the typical surgical flat mask that you'd see, and now we're trying a bunch of different, weird stuff up. I found these Honeywell Disposable Dust Masks on Amazon.

They're not claiming ... I don't see it. Do you see anything in listing? I don't think they're claiming anything that you should wear this to protect yourself from something like the coronavirus. It does look a lot of N95 masks, but this is an N95 mask.

I love the packaging. It's got a great box and then the masks are sealed on the inside, which I think is really cool. It's not a medical product, so they don't have to do that, but I love that. They've got a bread tie putting this together. A machine can't do this, so this is a good sign of something that is made manually. We're definitely proponents of trying to automate as much as we can because the least amount of touch that you can do, the more efficient the product is, the cheaper it is for you and the less contamination you're going to have. I'm going to put that back in. Let's go ahead and test it out.

Let's go ahead and start this two minute test. It just has one strap. It goes around the back of the head like this. It's got a nice aluminum mouth piece. Feels very nice. Air flow resistance of 52 pascals, which very breathable. Anything in the 50 range, I mean, man, you could wear that thing for 12 hours no problem. Plus I'm actually getting a decent seal here. Maybe it's the extra carbs I've been eating during the coronavirus, but my face is puffing out a little bit providing a nice little cushion to this thing, but it feels really good. The question is how much is this actually going to protect you? And should you be buying it for this?

Now it feels really good on the face. Strong product. It's sonically welded. Very, very strong. Obviously it's back of the head, so it didn't really hurt at all. What do you think that something this would do? Now I will say, I just want to give you a little heads up; we want to see masks that protect us to be above what?

95%.

95%. Now this thing is labeled as a dust mask. Dust mask is 2.5 microns in size. This thing is testing at 0.1 microns. This is the only mask that we've ever tested that's been worse than a Gator. 8.671%. 8.671%. That's pretty low. So that comfort and that breathability well, that comes at a cost.
I hope you enjoyed this video as much as we clearly have enjoyed making it. Tell you what; I'd love for you to write a comment if you have an idea for a mask that we should be testing, something maybe you haven't seen testing before. Even better, I'm going to put my address in the description, and I want you to send me the weirdest mask that you can find, and I'll give you a shout out on the next video that we do. Thanks so much. We'll see you at the next test.
Description
Details
Buy Mask
Leave a comment