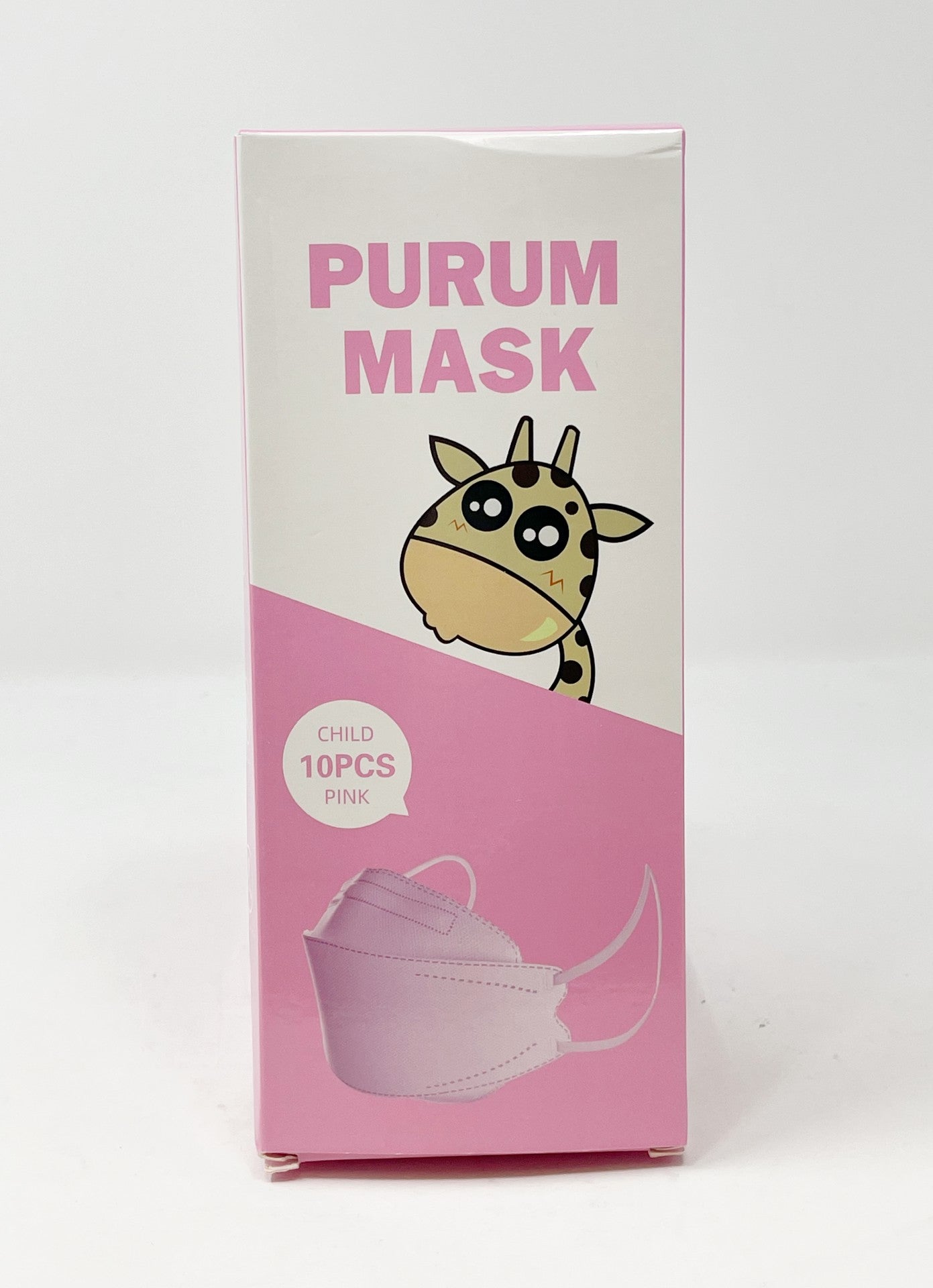 Purum Mask Child Pink KF94 mask
Click here to learn more about our full testing methodology.
Review
Video Transcript

Hey, everyone. Welcome back to the place we're testing every single mask on Amazon. Today, we are looking a lot at kids KF94s, although I got a feeling that this one is not legitimate. Let's open up the box and see what we find. Purum mask. Purum, is that supposed to be pure? The thing that's giving it away here is the fact that this is not a mask that KF94 folks would normally use. But I'm ... won't withhold my judgements here. I'm going to look into this.

It's good clamp, and we'll let her rip. This is a PFE machine, particulate filtration efficiency machine. We are doing the N95 test here on this KF94. It should pass at 94%. Let's see what's going on here. Ah, yes. Yes. Gotcha. Not a KF94. So KF94s have to be made in Korea. It's part of the standard. If you look on here, you can see that it's made in China, and it's using the executive standard 26 26, 2006, which is the KN95 standard. Now to be KN95, you got to say KN95. You got to say GB 26, 26-2006, which is weird because it's a super old standard. The current standard is 2019. That was made in 2006. You also have to have the manufacturer name. They don't have any of those things. On the listing, which may not be the manufacturer's fault, but they're claiming to be a KF94.

They're not because it'd have to be made in Korea. Now anytime that we find ... so it's crazy. It's literally happened overnight. KF94 used to be the go-to. You could buy almost any KF94 and it was going to be good. But overnight, China jumped in and said not so fast. We're going to make KF94s, which of course they can't because it has to be made in Korea for it to be legitimate KF94. Ooh, that's pretty good.

Now here's the thing. Why is that important? Well, the Korean FDA seems to be pretty good at policing their own manufacturers and that's why the KF94 design is so good. I'm going to call this a newly opened Lego set, very plasticy, but exciting because the possibilities. Well remember, the 94 in KF94 stands for 94% filtration on this machine. Plus on the box, I was able to find it actually say, Hey, it's actually a KN95. Why do they put that there? Because in order to export out of the country, China makes them put an executive standard on. They're like, uh, I don't know guys, it's a KN95, which means what? It has to pass that 95%, but what does the machine say? Let's take a look.

This is two for two. Makes me feel good to find them. Man, these fake masks. I just, 21.456. 21.456. I mean that's just terrible. All right guys, thank you so much for watching. Hope you enjoyed the journey to find and expose those fake KF94s. Hey, this is just me, but I wouldn't put my kids in the Purum mask. They're better real KF94s out there made in Korea that you can trust. Thank you so much for watching. I appreciate you. And I will check you on the next test.
Details
Buy Mask
1 comment
Hangzhou Yinping Technology
is a Chinese company, not a Korean company. Any spelling with something like a "z" letter, like here "zhou", it is usually a Chinese company. Fake Korean brand.
Leave a comment