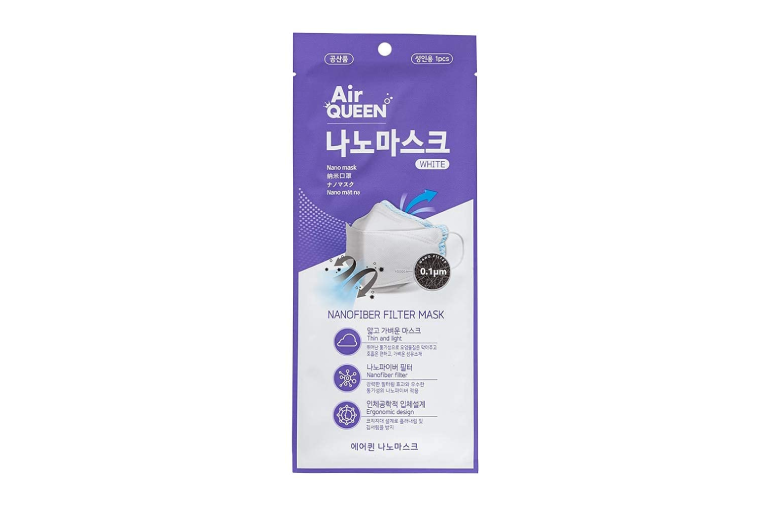 Air Queen Nano Filter Face Mask
Click here to learn more about our full testing methodology.
Review
Video Transcript

Hey. Didn't see you there. Caught me reading. Welcome back to the place we are testing every single mask on Amazon, in India, the whole world, including the submissions that you are sending to me, especially you Ron, from New York. I'm going to read the letter real quick.

"Longtime supporter of your business and outstanding Armbruster products." It's just Armbrust, but that's fine. It's a weird name. "As well as your YouTube channel." Thanks, man. "Please keep up with the neat content. I've watched almost every single mask review." Whoa, Ron, you got a problem. You got a problem. I don't know. Have you seen Netflix? You heard of it. I'm just kidding, Ron. Thank you for being supportive. I really appreciate it.

And actually I'm super excited to test the Air Queen mask today. So without further ado, which is how you pronounce that word, by the way, I don't know if you knew that, the Air Queen. Very, very popular mask, very well-known, probably the brand name of the KF94 format, which is one of my favorite formats.

They got great branding. Good name recognition. The clamp. Looks good. Let her rip. This is a PFE machine, Particulate Filtration Efficiency machine. I'm using the NIOSH test here. Check out that link if you want to know how this machine works. Basically the same test that you'd use on an N95.

Air Queen, very popular. If you search for KF94, this brand is going to come up often. Just like if you search for a surgical mask, our brand is probably going to come up often. The KF94 format is just, ah, ah, when it comes to... I've never done that before. Ah, feels good when it comes to masks. They're a Korean format, which means it needs to be made in Korea. And the Korean FDA is just really particular, a lot like NIOSH is, where they consistently test manufacturers and hold them to standards. So if you've got that KF94 stamp of approval, and actually to be honest, I don't see it say KF94 on here. So maybe it's not a KF94. I'll open the other package here.

Oh yeah. Air Queen calls it a nano mask because nano tech is supposed to be very breathable. This one's not super breathable to be honest, I've seen a lot better on KF94s. I'm at 195 pascals. I actually don't even have the standard, so I don't even know if that's within standard or not, but that is actually not the best that I have seen. I've seen way breather. Our masks are about 120 pascals, but I've seen N95s as low as 100, or break 100.

So let's take a look at the Air Queen. It's pretty good, but honestly, I'll test the ear loops in a second. I want to put this on. I only have two masks. I've seen better.
Big difference between a KF94 and N95 is N95 is going to give you a head strap around the head, back of the neck, which is going to get of you just a much better connection there. This is a little big, but I think they make them in different sizes.

Okay. I'm going to call this smell a floral arrangement gone wrong. You know, like sits in the vase a little bit long. It's like, hey, thanks Samantha for the flowers, but we should have thrown them away last week. Okay? Actually, it's feels very breathable, but the one thing that's nice about this format is it gives you a lot of breathable area. It feels very light, but honestly I'm not super impressed. I thought I'd be a lot more impressed. I am so impressed with the KF94 format. And actually, I know even think this is a KF94. I'm not seeing it anywhere on the label. I can't read Korean though. So maybe it says it on there, but typically they say it on here. So I'm not even sure this is a KF94.

The one thing that is unique about KF94s, tested a lot of masks on this machine, I've never had a KF94 fail. This may not be a KF94. Let's try the ear loop test. Yeah, I figured that that wouldn't be the best, but I only have one to test, so I didn't want to break it before putting it on. All right. But does any of that matter? Does it protect you? Let's see what's going on with the KF94-ish machine.

Oh, no. No, Air Queen, no, no, no, no. Now, this was sealed individually. I didn't buy it, so I can't verify what condition was in, but these bags are pretty good. I mean, the individual sealed bags are pretty good at protecting things. And this is actually very surprising. 92.74. Now KF94, the 94 stands for 94% filtration.

Clearly not meeting that standard. With the breathability on the back, I don't know. I'm sure that many of their masks tests higher, but most KF94s are in the 99% that I test. So as far as this format goes, this is the worst one I've ever tested. I'd choose a different one. Dr. Puri, that one was fire, little plastic-y smell, but I really like that one. Air Queen, sorry, can't recommend it, at least not this one. Maybe I'm wrong. Send me some more, I'll test him.

All right. Thank you guys for looking at this and for viewing. If this was helpful, if you were going to buy the Air Queen, you're like, "Heck no, Lloyd says no," give me a like or subscribe. Or if it was the other way around, if you're like, "I just hate Lloyd's opinion, and so that's why I watch every single one of his videos. And I am stocking up on the Air Queen now," give me a like, I helped you. I'm just saying, I did. All right. Thank you guys for watching and I will catch you on the next test.


Details
Buy Mask
3 comments
Drop King
"Hi,
This is Alex here, sales manager of Dropking LLC. We went through some of your products on your website that were quite impressive, having high demand, and found it quite valuable and encouraging.
We have an E-Commerce Business Company in the USA. We are always looking for high-quality brands having unique products for our customers.
We would love to work with you as "Wholesale Partner", definitely prefer to list your products on our E-commerce store. We want to build a long-lasting relationship with you.
Please let us know what are the requirements to open an Account with you. Please send us more information as well as your recent "Product Catalogs" and "Price List" with UPC code in Excel sheet.
We will admire your decision if you let us open a wholesale account with us.
Regards
Alex wood (Sales Manager)
Address: NATHAN GROVE SOLE MBR 125 TURNBERRY LN COPPELL, TX 75019
E-mail: sales@dropkingllc.com
Website: https://dropkingllc.com/
EIN: 88–3399114
Tax Permit: 3-20854-5168-3
Dropking LLC"
These masks are great. Easy to breathe and have more than 94% filteration effeciency
Dear Sir
We are the manufacturer of the Airqueen Mask.
We can provide $0.11/pc for Air queen Mask(White) and
BTI mask (Same with the Air queen mask but different pouch) for $0.08/pc
Please reply if you are interested.
Jongyul(John), Cha
General Manager
LIME Co., Ltd. / Sales Team
49-53, Cheomdangieop 4-ro, Sandong-myeon, Gumi-si,
Gyeongsangbuk-do, Republic of Korea
T) +82-(0)54-467-2146
F) +82-(0)54-476-6441
M) +82-(0)10-8000-7226
e-mail) jy.cha@limenano.com
Leave a comment